STARS, EXTRASOLAR PLANETS AND THE GALAXY
HIGH VELOCITY CLOUDS
WHT+UES
Scattered across the sky are hundreds of clouds of hydrogen gas, moving at such high velocities that they clearly stand out from the usual interstellar material in the Milky Way. These high-velocity clouds (HVCs) have remained enigmatic since their discovery in the 1960s. HVCs have velocities inconsistent with simple Galactic rotation models that generally fit the stars and gas in the Milky Way disk. Their origins and role in Galactic evolution remain poorly understood, largely for lack of information on their distances.
The HVCs might result from gas blown from the Milky Way disk into the halo by supernovae, in which case they would enrich the Galaxy with heavy elements as they fall back onto the disk. Alternatively, they may consist of metal-poor gas - remnants of the era of galaxy formation, accreted by the Galaxy and reducing its metal abundance. Or they might be truly extragalactic objects in the Local Group of galaxies.
Distance estimates of HVCs have long been based on models or indirect arguments. The only direct method uses the presence or absence of interstellar absorption lines at the HVC's velocity in spectra of stars at different distances. The presence of absorption shows the HVC to lie in front of the star; absence places it beyond, provided that the expected absorption is well above the detection limit. So far distance measurements are lacking.
HVC complex A, also called chain A, was the first HVC discovered and has been studied in detail. It is a 30º-long filament, containing several well-aligned concentrations with velocities between -210 and -140 km/s. Spectra from the Hubble Space Telescope set a firm lower distance limit, d>4±1 kpc for chain A. Astronomers have now also measured an upper limit, d<10 kpc, for the upper end of chain A, using UES spectra of the the RR Lyrae star AD Ursae Majoris. This is the first time a firm distance bracket for a large high-velocity cloud is obtained.
According to this distance bracket, chain A is placed in the Milky Way halo (2.5 to 7 kiloparsecs above the Galactic plane), rather than at an extragalactic distance, and its mass is constrained to between 105 and 106 solar masses. The obtained distance bracket excludes models for its nature and origin requiring a distance of the order of 1 kpc or less, such as relationships to local molecular clouds, or collision of an intergalactic cloud with the Galactic disk. It also rules out chain A being a Galactic satellite at ~50 kpc distance, or a protogalactic gas cloud at ~500 kpc distance, or a member of the Local Group of galaxies, as proposed recently for HVCs in general.
The location of chain A in the Galactic halo still allows several models for its origin. For its height 2.5 < z < 7 kpc to be consistent with a Galactic-fountain model, a sufficiently hot halo would be required. The small-scale structure observed in chain A would then be due to instabilities formed in the downward flow of cooling clouds. Alternatively, chain A may represent gas captured from intergalactic space. In that case, collision with an ionized halo extending high above the Galactic plane may have served to decelerate the gas to its present velocity, and to form the small-scale structure. In this accretion model, the question whether the origin of chain A lies in the Magellanic system (as debris from encounters between Milky Way and Magellanic Clouds), or far away in the Local Group (as remnant of Local Group formation), remains open: location in the Galactic halo does not preclude such a distant origin.
Some references:
J. Bland-Hawthorn, 1999, "Clues to galaxy formation", Nature News, 400, 220.
W. B. Burton and R. Braun, 1999, "Clouds from near and far", Nature News, 402, 359.
N Lehner et al., 1999, "Optical observations of three Galactic halo stars: evidence for cloudlets in intermediate- and high-velocity interstellar clouds", A&A, 352, 257.
N Lehner et al., 1999, "High-velocity interstellar clouds towards the M 15 globular cluster. I. Low resolution optical data", A&A Suppl., 134, 257.
H. van Woerden, U. J. Schwarz, R. F. Peletier, B. P. Wakker, P. M. W. Kalberla, 1999, "A confirmed location in the Galactic halo for the high-velocity cloud 'chain A', Nature, 400, 138.
"Distances and metallicities of High-Velocity Clouds", Kapteyn Astronomical Institute Annual Report 1999, 18.

THE SEARCH FOR EXTRASOLAR VERY LOW-MASS OBJECTS
WHT+ISIS, +WHIRCAM, INT+WFC, +PFC
Stellar clusters and associations offer a unique opportunity to study substellar objects in a context of known age, distance, and metallicity; they are laboratories of key importance in understanding the evolution of brown dwarfs. Deep- and wide-imaging surveys to search for low-mass objects have continued on the ING telescopes. Such surveys can probe the cluster luminosity and mass functions down to the substellar limit, and beyond in the case of the nearest and youngest open clusters. In particular, the Pleiades, a star cluster which is an ideal hunting ground for substellar objects mainly due to its richness of members, young age, proximity and scarce interstellar absorption, have revealed a large population. Recently, about 45 brown dwarf candidates have been discovered.
The extension of these studies to other clusters, especially in the younger regions, is therefore very important for confirming and enlarging these results. With this intention a survey in the young stellar cluster around the young multiple star sigma Orionis was carried out. The cool nature of eight candidates (spectral types M6-M8.5) was spectroscopically confirmed. One of the latest type candidates, S Ori 45 (M8.5), is one of the least massive objects known to date, with a best estimate of its mass at 0.020-0.025 solar masses.
Praesepe is a nearby and rich Galactic open cluster within the Hyades moving group. Though similar to the Hyades in terms of age, kinematics and chemical composition, Praesepe's larger distance and smaller angular extent make it an excellent target for wide-area CCD surveys. However, the brown dwarf population of Praesepe is sensitive to both the age and distance of the cluster. If the cluster is 500 Myr old, then a recent survey would have found 3 good candidates. But if the cluster is 1 Gyr old, then only one might be a brown dwarf.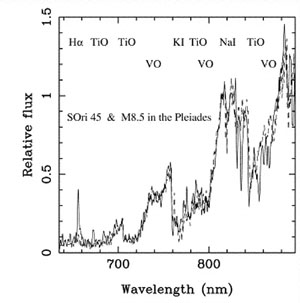 S Ori 45 (M8.5 spectral type; solid line) compared to its spectral type counterparts (dashed line) in the Pleiades. The Pleiades spectrum has been obtained by averaging the spectra of the brown dwarfs Teide 1 and Roque 4 brown dwarfs. [ JPEG | TIFF ]
Some references:
V J S Béjar, M R Zapatero Osorio, R Rebolo, 1999, "A search for very low mass stars and brown dwarfs in the young sigma Orionis cluster", ApJ, 521, 671.
N C Hambly et al., 1999, "Brown dwarfs in the Pleiades and the initial mass function across the stellar/substellar boundary", MNRAS, 303, 835.
S T Hodgkin et al., 1999, "Infrared photometry of low-mass stars in Praesepe", MNRAS, 310, 87.
M R Zapatero Osorio et al., 1999, "Brown dwarfs in the Pleiades cluster", A&A Suppl., 134, 537.

OPTICAL STJ OBSERVATIONS OF THE CRAB PULSAR
WHT+SCAM
A totally new concept in optical detector instrumentation made its first appearance at the WHT. The Super-conducting Tunnel Junction camera (S-CAM), designed and built by members of the Astrophysical Division of the European Space Agency, is a high-efficiency photon-counting system which provides position and arrival time of each detected photon, along with the photon energy.
A tunnel junction consists of two conductors separated by a tiny gap of insulating material or even a vacuum. If the gap is thin enough, electrons can tunnel across anyway, and if the conductors are superconductors, the junction displays very useful quantum-mechanical properties and electrical nonlinearities. An arriving photon breaks apart the pairs of electrons responsible for the superconducting state, which can then be collected. Each individual photon creates a large number of free electrons, in proportion to photon energy. Thus by measuring the charge released by each detected photon, these can be sorted in energy, or wavelength. The main advantages of STJs is that they operate at high speed at very low temperatures, dissipate very little power and are very small.
The first observations of an astronomical object using an STJ device took place at the William Herschel Telescope in February 1999. The Crab pulsar was observed using a 6 × 6 array of Tantalum STJs, covering an area of about 4 × 4 arcsec2, cooled with the help of a bath of liquid helium to a temperature within a degree of absolute zero. This object, a neutron star spinning about 30 revolutions per second and one of the few pulsars that is known to emit optical pulses, was an ideal target for verifying the STJ camera's photon counting and timing capabilities. The astronomers recorded a light curve for the pulsar in two bands simultaneously over the wavelength range 310-610 nm, based on data acquired over a ten-minute interval, with an arrival-time accuracy of 5µs. The light curve clearly shows the characteristic two beams of light which shine out, like a lighthouse, one weak and long and the other bright and short, in each revolution. The color didn't change through the pulses.
The astronomical impact of these results may have been modest, but it has presented a glimpse of what STJ technology holds in store for the future.


On the left: Crab pulsar lightcurve. S-CAM is based on 6 × 6 array of 25µ tantalum junctions operating at a temperature of 0.32 K and covering the 350 - 650 nanometre range. The camera is designed to operate at the Nasmyth focus of the Ground Based High Resolution Laboratory of the William Herschel Telescope. The instrument consists of an optical unit (which converts the beam to a plate scale of 0.6 arcsec/pixel), a cryo-magnetic cooling system, and associated read-out and control electronics. Shown here is the optical unit. [ JPEG | TIFF ]. On the right: The S-CAM optical unit [ JPEG | TIFF ]
Some references:
J C Mather, 1999, "Super photon counters", Nature news, 401, 654.
M A C Perryman, F Favata, A Peacock, N Rando, B G Taylor, 1999, "Optical STJ observations of the Crab Pulsar", A&A, 346, L30.
"Novel Photon Detectors Debut", S&T News, November 1999, 20.

P Moore, N Rando, 1999, "Super Cool Technology", ING Newsletter, 1, 13.
THE SEARCH FOR REFLECTED LIGHT FROM EXTRASOLAR PLANETS
WHT+UES
The search of extrasolar planets is one of the major quests in the history of the humanity. Since the first extrasolar planet was detected in 1995, at least 30 more planets have been found. Their detection relies on the fact that the force of gravity that keeps a planet in its orbit has an opposite reaction on the star, causing it to wobble in its own tiny orbit about the common centre of mass. From the size of the stellar wobble, astronomers can calculate a lower limit for the planet's mass, but they can't tell whether they are seeing the effect of a lighter planet in an orbit seen edge-on, or a heavier one in the same orbit viewed differently. This indirect detection cannot tell us anything about the composition of these planets either. All the stellar wobbles indicating extrasolar planets have so far been found using the Doppler technique, which measures changes in the star's velocity along the line of sight.
More recently the transit method has succeeded in finding the first extrasolar planet. This method relies on the detection of the transit of the extrasolar planet across the face of its host star, which astronomers use to estimate the planet's size, mass and density.
The high-resolution UES spectrograph on the WHT has been used to go further and detect direct light from an extrasolar planet. The idea is to look for light with a different Doppler shift than that of the star itself. However, the detection of reflected light is very difficult. It requires extremely careful data reduction techniques to be applied to the data, in order to extract the very faint light signal from the planet. In late 1999 astronomers using this method claimed to have discovered the probable detection of Doppler-shifted starlight reflected from the planet known to orbit Tau Boötis with a period of just a few days. They found that the orbital inclination was about 29º, from which they inferred that the mass is about eight times that of Jupiter. The planet has the size and reflectivity expected for a gas-giant planet.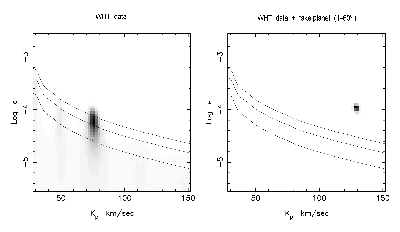 The relative probability map testing for the presence of a planetary reflected-light signature. For each possible value of the unknown planet-to-star brightness ratio epsilon, and of the planet's projected orbit velocity Kp, darker shades denote progressively better fits to the data. The solid curves show the 68.3%, 95.4%, and 99.7% upper limits above which a planet signature can be ruled out as a function of Kp. The plot shows significant evidence for a planet at projected orbital velocity Kp=74±3 kms-1 and face-on planet-to-star flux ratio epsilon=7.5±3×10-5. Since the true orbital velocity amplitude is close to 152 kms-1, the implied orbital inclination is close to 29°. In the right-hand panel, the signature of a simulated planet with Jupiter-like reflectivity, radius 1.4 times Jupiter, and orbital inclination 60° is detected at a high level of significance. [ GIF | TIFF ]
Some references:
R Adler, 1999, "Beyond the stars...", New Scientist news, 18 December, 4.
A Burrows and R Angel, 1999, "Direct detection at last", Nature news, 402, 732.
A Collier Cameron, K Horne, A Penny, D James, 1999, "WHT achieves first detection of an extrasolar planet", ING Newsletter, 2, 3.
A Collier Cameron, K Horne, A Penny, D James, 1999, "Probable detection of starlight reflected from the giant planet orbiting Tau Boötis", Nature, 402, 751.
"Another way to size up extrasolar planets", S&T news, 11 December, 1999.

HR 8752, A HYPERGIANT NEAR THE BORDER OF INSTABILITY
WHT+UES
Hypergiants are supergiant stars with strongly developed large-scale atmospheric velocity fields, excessive mass loss, and extended circumstellar envelopes. They are rare objects, only 12 of them being known in our Galaxy. There are indications that yellow hypergiants are evolved stars, evolving from the red supergiant phase to the blue phase. However, stars with effective temperature near 9,000 K have density inversions, which may indicate instability. This has led to research on the 'yellow evolutionary void'. Inside the void the atmospheres are moderately unstable. The process of approaching the void has not yet been studied and this is a field in which no observations have guided theory so far. A monitoring of stars approaching the void will help to understand the nature of the instabilities and the hydrodynamics of unstable atmospheres and finally to answer the most important question of whether or not these stars can pass the void.
It is believed that the Galactic hypergiant HR 8752 is presently bouncing against the yellow evolutionary void. From UES spectra astronomers reported for the first time the finding of spectroscopically recorded large changes of the effective temperature, from 5,000 K in 1969 to about 8,000 K in 1998, which cannot be ascribed to the regular variability of a supergiant atmosphere. This finding is based on a unique combination of high-resolution optical spectra that span a period of about 30 years. Thus, HR 8752 turns out to be the first cool supergiant that shows the effects of stellar evolution from a study of its 30 year old spectroscopic history.
Now that HR 8752 approaches the yellow evolutionary void three possibilities arise: 1) The star might return to the point when the effective temperature was 4,000-5,000 K; 2) It might explode as a supernova or, 3) It might occupy the void, which would mean that theory should change. Observations in the coming years will tell us the next evolutionary stage.
Some references:
G Israelian, A Lobel and M R Schmidt, 1999, "The yellow hypergiants HR 8752 and Rho-Cassiopeiae near the evolutionary border of instability", ApJ Letters, 523, 145.
G Iraelian, 1999, "Las Estrellas hipergigantes", IAC Noticias, 2/1999, 8.
H Nieuwenhuijzen, C de Jager, 2000, "Checking the yellow evolutionary void. Three evolutionary critical Hypergiants: HD 33579, HR 8752 & IRC +10420", A&A, 353, 163.

THE ORIGIN OF EARLY-TYPE STARS FOUND IN THE GALACTIC HALO
WHT+UES, +ISIS, JKT+CCD
Among the faint, blue stars that are observed at intermediate and high Galactic latitudes, there exists a small subset of objects that are spectroscopically indistinguishable from normal, young Population I B-type stars found in the Galactic disk. The majority of this subset are plausible 'runaway' stars, recently formed in the Galactic disk and subsequently ejected by some mechanism. However, in a few cases these apparently normal stars are found at large distances from the Galactic disk, and their evolutionary ages are too short for the objects to have attained their current Galactic locations.
There is no doubt that star formation at large distances from the Galactic plane is controversial. However, shock induced star formation between halo high velocity clouds has been postulated as the origin of the apparently young, distant B-type stars where formation in situ seems to be the only possible explanation for their existence.
From recent echelle spectroscopy of 21, apparently normal, high Galactic latitude, early-type stars of solar metallicity drawn from the Palomar-Green survey, astronomers concluded that distances, ages, and velocities are consistent with escape from the Galactic plane. In other words, all these objects are 'runaway' stars, formed in the Galactic disk and subsequently ejected, possibly by supernovae explosions or dynamical interactions. In particular high-resolution, high signal-to-noise ratio spectra of HD 100340 showed that this is a normal main-sequence B-type star, at a distance of 2.6 kpc above the Galactic plane. A kinematical analysis strongly suggests that HD 100340 formed in the Galactic disc, and was subsequently violently ejected towards the halo, as a result of the dynamical evolution of a stellar cluster.
Some references:
W R J Rolleston et al., 1999, "Early-type stars in the Galactic halo from the Palomar-Green Survey. II: A sample of distant, apparently young Population I stars", A&A, 347, 69.
R S I Ryans et al., 1999, "High-resolution stellar and interstellar spectra of HD 100340", MNRAS, 304, 947.