The ING Support and Research Studentship Programme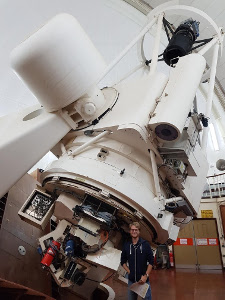 ING student besides the INT telescope
Applications for the 2023/2024 studentship programme are welcome until March 15 2023.
Introduction
The 2.5-m Isaac Newton Telescope (INT) is operated at the Observatorio del Roque de los Muchachos on the island of La Palma (Canary Islands, Spain) by the Isaac Newton Group of Telescopes (ING). The INT is used for astrophysical research by a large community of astronomers worldwide. It currently hosts two instruments: the Wide Field Camera (WFC) for wide field imaging over a 33-arcmin field with a large set of broad- and narrow-band filters, and the Intermediate Dispersion Spectrograph (IDS), a versatile long-slit spectrograph.
Its imaging and spectroscopic capabilities make the INT a unique hands-on training facility for students just starting their careers in astronomy and astrophysics. The INT offers visitor-mode observations, and also the posibility of Service-Mode observations under PI requests, so a high degree of interaction with visiting astronomers and service requesting PIs working in a wide variety of topics is guaranteed. Further information on the facilities, staff, and achievements can be found at our website.
The following video feature the Isaac Newton Telescope:
The INT Experience by an Observer, by Moein Mosleh:


The INT Support and Research Studentship programme offers astronomy and astrophysics PhD, MSc and undergraduate students a unique opportunity to spend one year at ING as INT support astronomers, and to be involved in ING projects related to instrumental, optical, or software development, improvement and/or characterisation (~40% of the time). The rest of the time is devoted to their thesis work or other research interests. Students interested in any field of observational astronomy and/or astronomical instrumentation are welcome.

During 2024 (exact date not yet known) observations with the IDS and WFC will end, and the INT will undergo a major refurbishment to allow installation of HARPS3, a stabilised high-resolution spectrograph which will carry out a 10-year Cambridge-led survey aimed at discovering earth-mass planets.

In the event of the INT closing for refurbishment before September 2024, the INT student support astronomers will continue to work in INT related technical projects, and will participate in instrumental and observational activities at the 4.2-m William Herschel Telescope (WHT), which has long been one of the most scientifically productive and versatile telescopes of its class in the world, as well as in technical INT related projects. In 2023, the INT students may have an opportunity to get involved in the commissioning of WEAVE, the new wide-field, 1000-fibre multi-object spectrograph survey facility for the WHT, and after commisionning to help with WEAVE survey observations.


Milky Way over La Palma, timelapse by Thomas Davison, INT student 2018/19:


The ING offers accommodation in ING-owned flats, free to the students. The flats are within walking distance of ING's sea level headquarters. Students also receive a monthly stipend to cover their living expenses on La Palma. Several nights at the INT are usually available for observations related to the students' research activity.

The ING headquarters are located in Santa Cruz de La Palma and have modern computing, data reduction, and communication facilities. Access to a library, meeting rooms, etc. is also provided. Joint seminars with other institutions on scientific or technical topics and also visits to other ORM telescopes will be organised. The astronomical family on La Palma is relatively large, so professional and social contacts are frequent.
Each year, the ING students can volunteer to participate in some outreach activities organised at the ING sea level office and Roque de los Muchachos Observatory (ORM), which in the past have included astro-photography and school visits.


INT student at the INT control room.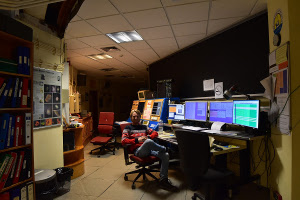 Requirements
The candidate must meet the following requirements:
EU or UK citizenship, or possession of an EU or UK national student residence permit.
For UK citizens, the post-Brexit rules are now defined, but both sides are adapting their procedures, and obtaining the necessary visas involves some paperwork and expense. ING admin can help with the procedural steps, and ING will cover the costs of obtaining the visas.
Having the status of "registered student" throughout the year to be spent on La Palma, i.e. enrolment in an astronomy PhD (preferably the early years of the PhD) or MSc program or in the final years of an undergraduate astronomy or physics course at a recognised university or research institution.
Possession of a valid driving licence, and ability to drive a car, by the time of taking up the position on La Palma.
A strong interest in observational astrophysics and/or astronomical instrumentation.
A good working knowledge of English (knowledge of Spanish is an advantage).
Ability and willingness to work during day or night, occasionally also on weekends or public holidays, at an altitude of 2400 metres above sea level, and to take up residence on La Palma for the duration of the studentship.
The placement is conditional on the student undergoing a medical examination (usually in the home country, to be reimbursed by the ING) to ensure the student's fitness for duty, especially at the altitude of the observatory on La Palma.
Qualifications
Candidates meeting any of the following (non-mandatory) criteria are particularly welcome:
Citizenship of (or residence in) one of the three ING partner countries: Spain, UK or the Netherlands.
A working knowledge of the Linux/UNIX operating systems and astronomical data-reduction software.
Experience of observing and data reduction.
Public-outreach photographs taken by the 2018/19 students.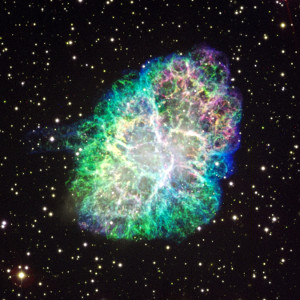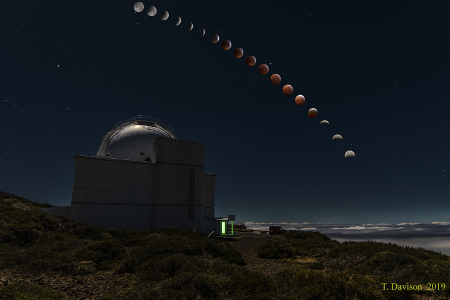 Contract terms
The duration of the studentship is one year, usually starting at the end of September. Five positions are offered in this call.
Students are not employees of ING, but receive a monthly stipend during their stay. Financial support for travelling to and from La Palma plus one round trip for mid-term vacation, and accommodation for the whole year are provided by the ING.
Students have the right to 25 days leave during their 1-year stay at the ING.
The working week is of 37 hours. Duty at night and over weekends are compensated with free time.
When on duty at the observatory, transport, accommodation and subsistence are provided by ING.
Office space and appropriate computer facilities at ING headquarters in Santa Cruz de La Palma are provided.
Students work under the authority of the Studentship Programme Manager, INT Telescope Manager and the Head of Astronomy who will determine and coordinate the tasks to be performed during the support nights and any work related to telescope and instrument performance.
In addition to regular INT visitor support, students may have the opportunity to carry out observations in service mode in collaboration with astronomers awarded observing time, and these observations typically result in co-authorship of publications.
Other activities during the ING studentship program in La Palma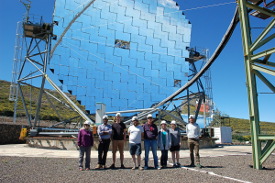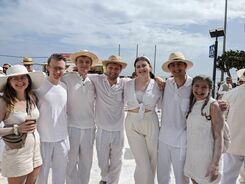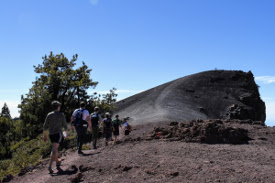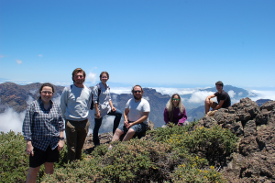 How to apply
Applicants should state in a cover letter (1-2 pages) the candidate's past and present experience, compliance with the above requirements, motivation for working at ING, and any other information the candidate wishes to submit for consideration. A CV must be also attached, and the names of two referees willing to provide letters of recommendations should be given. The ING may subsequently request references for short-listed candidates.

Applications should be sent by e-mail, NOT LATER THAN WEDNESDAY 15th of March 2023, to the ING studentship programme recruiter: Ovidiu Vaduvescu (ovidiuv@ing.iac.es) with copy to the studentship programme managers Yeisson Osorio (yo@ing.iac.es), Lilian Dominguez (ldp@ing.iac.es) and Cecilia Farina (cf@ing.iac.es). Applications may also be posted to:
Studentship Programme Manager
Isaac Newton Group of Telescopes
Apartado de correos 321, E-38700, Santa Cruz de La Palma, SPAIN
Fax:+34 922 425 401
Some other interesting videos related to the INT and the INT students.
Inside the Isaac Newton Telescope, by the journalist and film maker Brady Haran, included in the series "Deep Sky Videos":


A Night at the Isaac Newton Telescope: