DISCOVERY OF A TYPE IA SUPERNOVA PROGENITOR
INT+IDS
Type Ia supernovae (SNe Ia) are one of the most important tools for observational cosmology because there appears to be a relatively small spread in their peak optical brightness and they can be seen out to cosmological distances so they can be used to measure cosmological parameters. However, the peak optical brightnesses of SNe Ia are not uniform; they are correlated with the shape of the light curve. Meaningful measurements of cosmological parameters require this variation to be calibrated. The corrections to peak brightnesses have to be empirical because it is still not yet clear what causes SNe Ia.
All the most likely models for progenitors of SNe Ia feature an accreting white dwarf which ignites carbon in its core either because it has reached the Chandrasekhar mass or because ignition of accumulated helium causes compression of the core and a so-called 'edge-lit detonation'. This explains the fast rise times for SNeIa, the lack of hydrogen and helium and the fairly uniform peak brightness. To initiate the explosion, the white dwarf must accrete material from a companion star. Two models for the companion star which have gained popularity in recent times are supersoft sources and double degenerates.
However, the possibility of a helium star companion to a white dwarf has not been widely considered as a source of SNe Ia. In particular, sub-dwarf B (sdB) star binaries might be good candidates. There are many white dwarfs which are known to begaining mass from a normal star, but these are made of hydrogen which causes a series of small explosions before the Chandresekhar limit is reached. This is what causes a nova explosion. To make a supernova, the white dwarf has to be supplied with helium, which explodes less easily but releases much more energy.
KPD1930+2752 is a sdB star. It is about one fifth the size of the Sun and is about half as massive. Unlike normal stars, which are composed almost entirely of hydrogen, KPD1930+2752 is made of helium. It is not entirely clear how sdB stars are made, but recent work suggests they are the remains of stars like the Sun which lose half their mass just before they complete the end of the red giant phase of their evolution. Only some small fraction of stars evolve this way and this is thought to be related to the fact that most sdB stars are binary stars.
KPD1930+2752 was observed with the INT as part of a programme to study sdB stars to understand how they are formed. The Doppler shift shows that the star is orbiting an unseen companion every 137 minutes at a speed of 350 km/s. The unseen companion has almost the same mass as the Sun, but it is much smaller and fainter. The unseen companion star could be a neutron star or blackhole, but it is much more likely to be a white dwarf star.
When binary stars have orbital periods as short as two hours, they produce "gravitational waves" which drain energy from the orbit, so the stars gradually spiral in towards each other. KPD1930+2752 will merge within 200 million years. The white dwarf will then gain extra mass from the sdB star and will exceed the Chandresekhar critical mass. This is thought to lead to a Type Ia supernova explosion.
KPD1930+2752 is the first star to be discovered that is a good candidate for the progenitor of a Type Ia supernova of this type, which may explode on an astrophysically interesting time-scale.
Some references:
P. F. L. Maxted, T. R. Marsh and R. C. North, 2000, "KPD 1930+2752: a candidate Type Ia supernova progenitor", MNRAS, 317, L41.
P. F. L. Maxted, R. C. North and T. R. Marsh, 2000, "Discovery of a Type Ia Supernova Progenitor", ING Newsl, 3, 7.
"Southampton astronomers find 10 billion billion billion megaton bomb", University of Southampton Press Release, 20 July 2000.

NEW VIEWS OF BETELGEUSE: MULTI-WAVELENGTH SURFACE IMAGING AND IMPLICATIONS FOR MODELS OF HOTSPOT GENERATION
WHT+GHRIL
Most of the earlier images of Betelgeuse, made at wavelengths shorter than 800 nm, have exhibited a small number of bright regions. Astronomers have explained the bright regions as the tops of convection cells - bubbles of hot gas welling up from the interior of the star.
As we look at different wavelengths of light, we see to different depths in cool stars like Betelgeuse. The outer layers of the star are transparent to infrared light. Thus if we look in the infrared, we see a small, featureless star. The outer layers are not transparent to red light, because of absorption by titanium oxide molecules. However, if hot gas rising from below disturbs the outer layers, they become transparent to red as well as infrared light, and bright features are seen on the star, where hotter gas is visible through the "holes" in the outer layers.
The parametric images above were secured within a few days of each other in November 1997. The two images on the right were reconstructed using data from COAST, and the left-hand image is a result of an aperture-masking experiment performed in La Palma using the William Herschel Telescope. The resolution of all three images is similar (20-30 milliarcseconds), and each shows an area 0.1 arc-second across. Each image was taken through a different colour filter. From left to right, the images show how Betelgeuse appears in red (a wavelength of 700 nanometres), very near-infrared (905 nm), and near-infrared (1290 nm) light. To show this, we have coloured the images different shades of orange and red. The images are strikingly different from one other. Three bright features ("hotspots") are visible on the surface of the Betelgeuse at 700 nm, but only one feature is discernible at 905 nm, and at 1290 nm the star presents a featureless disk. The disk is also smaller at 1290 nm than at 905 nm, and its intensity falls off more sharply towards the edge.
Some references:
J. S. Young et al., 2000, "New Views of Betelgeuse: multi-wavelength surface imaging and implications for models of hotspot generation", MNRAS, 315, 635.

THE COOLEST KNOWN HALO WHITE DWARF
JKT+CCD, WHT+ISIS
White dwarfs are the remnant cores of stars that initially had masses of less than 8 solar masses. They cool gradually over billion of years, and have been suggested to make up much of the 'dark matter' in the halo of the Milky Way. But extremely cool white dwarfs have proved difficult to detect, owing to both their faintness and their anticipated similarity in colour to other classes of dwarf stars.
A white dwarf star, named WD0346+246, was serendipitously discovered as a faint, very fast moving star on a sequence of photographic plates. The high apparent velocity is a characteristic of stars which are very old and are traveling on inclined elliptical orbits around the Galaxy. Astronomers secured parallax measurements on the Jacobus Kapteyn Telescope to determine the distance to WD0346+246 and confirm its low luminosity. They reported a distance of 28 parsecs. They also estimated a surface temperature of around 3,500 Kelvin degrees. Thus WD0346+246 has been shown to be one of the coolest and therefore oldest white dwarfs ever found, and has to be a member of a hitherto unobserved and possibly large population of faint stars in the Galactic halo.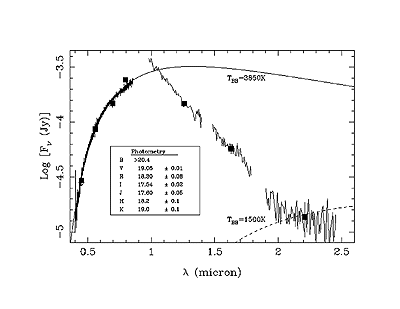 The spectrum of the halo white dwarf WD 0346+246 showing the dramatic effects of collision induced absorption by molecular hydrogen in the infrared. Thus the object appears red in the optical, but blue in the infrared. [ GIF | TIFF ]
This discovery has serious implications for our understanding of the Milky Way. The coolest white dwarfs provide a measurement of the age of the Galaxy. But they may also play a more important role. For the last thirty years, astronomers have found that most of our Galaxy seems to be invisible. In fact, as much as 90% of the mass in our Galaxy may be hidden in the form of 'dark matter'. Dark matter theories fall into two broad classes. The first suggests that the dark matter is not really dark - but is composed of many faint stars such as cool white dwarfs and brown dwarfs. The second class of dark matter candidates are various elementary particles, left over from the big bang. Indirect evidence for the dark matter being comprised of cool white dwarfs first came from the MACHO gravitational microlensing experiment. The MACHO project monitored some ten million stars in the Magellanic Clouds in the hope of detecting the occasional brightening caused by a dark halo object moving across our line of sight to one of the stars. The MACHO results suggest that these stars can be very numerous, and could contribute approximately 50% of the total mass of the Galaxy.
The discovery of one nearby, very old and cool white dwarf does not solve the dark matter problem. But it does lend weight to the MACHO scenario, and presents astronomers with an astonishing conclusion: the Galaxy may be full of extremely old white dwarf stars. The race is now on to count how many objects like WD0346+246 exist in the Galaxy and to measure how much they weigh in total.
Some references:
N. C. Hambly, S. J. Smartt, S. T. Hodgkin, R. F. Jameson, S. N. Kemp, W. R. J. Rolleston and I A Steele, 2000, "On the parallax of WD 0346+246: a halo white dwarf candidate", MNRAS, 309, L33.
S. T. Hodgkin, B. R. Oppenheimer, N. C. Hambly, R. F. Jameson, S. J. Smartt and I. A. Steele, 2000, "Infrared spectrum of an extremely cool white-dwarf star", Nature, 403 , 57.