Measurements of the temperature, wind speed, humidity etc from 1999 are available from the the ING
meteorology and seeing archive
.
On average, 25% of observing time at the William Herschel Telescope is lost to bad weather (when cloud, wind speed, dust, humidity, dew or ice exceed the operational limits):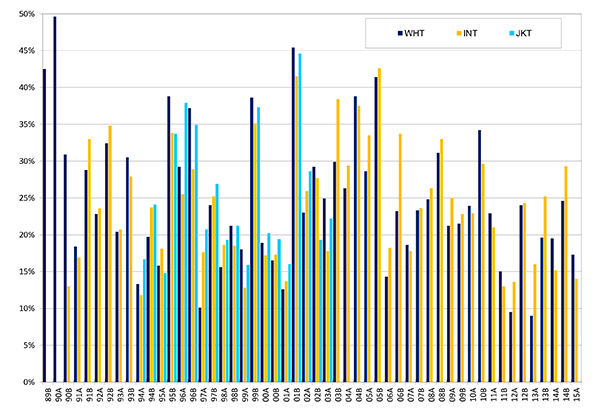 Relative-to-night-length weather downtime per semester excluding from the calculation S/D/commissioning nights as well as nights when visiting instruments were used [ PNG ]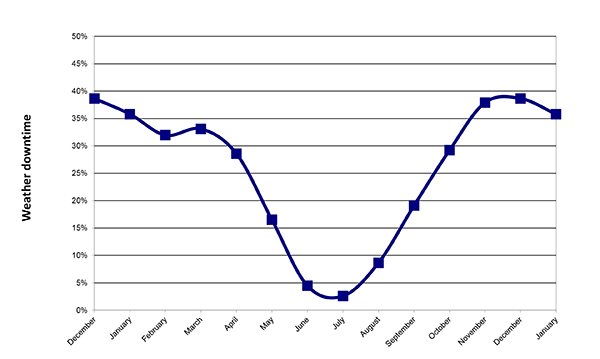 Fraction of observing time lost to bad weather at the WHT, 1989 to present. The average downtime is ~20% in semester A (February to July) and ~28% in semester B (August to January) [ PNG ]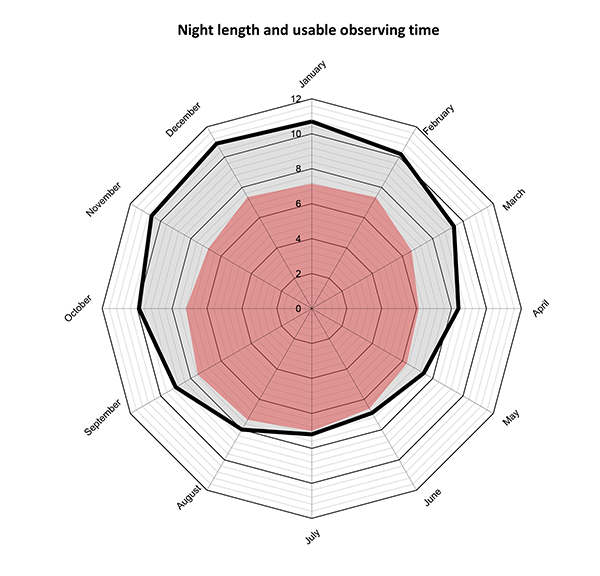 Monthly variation of usable observing time and length of night from 1989 to present. The thick black line represents the duration of astronomical night in hours. The border of the pink area shows the (rather small) monthly variation in the number of hours of good weather available, from a minimum in April, to a maximum in September. [ PNG ]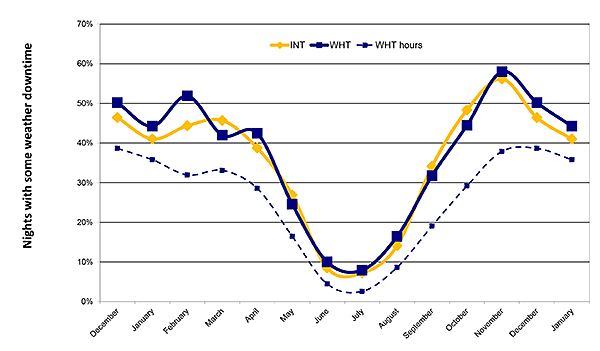 Monthly variation of % of nights with some weather downtime from 2002 to present. The dashed line shows the % of time lost to bad weather on the WHT (i.e. same as two figures above). [ PNG ]
ING seeing
pages.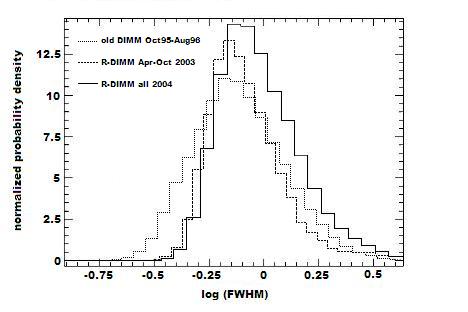 Seeing statistics as measured by ING's DIMM monitor, originally installed to monitor the seeing on adaptive-optics nights.
The median seeing during the summer is probably ~ 0.15 arcsec better than the median during the winter.
Further information about site seeing can be found on the IAC's Sky Team web pages.
V
band, and
varies with wavelength
. See
La Palma technical note 31
(King 1985) for further information.
During July, August, September, a pall of neutral-extinction ('grey') Saharan dust (properties described by Murdin 1986 in La Palma technical note 41) hangs over the islands, and the total extinction may be as high as 1 mag.
The Carlsberg Meridian Telescope (CMT) provided a nightly record of extinction between 1984 and 2013. García-Gil et al. (2010, PASP, 122, 1109) carried out a statistical analysis of the CMT data.
B
= 22.7,
V
= 21.9,
R
= 21.0, rms 0.1 mag/arcsec
2
. The sky brightness in
U
and
I
is less well-determined,
U
approx 22.0 mag/arcsec
2
(few data),
I
approx 20.0 mag/arcsec
2
(variable). As at other dark sites, the main contributions to sky brightness are airglow and zodiacal light, in the ratio 2.5:1 at high ecliptic latitude.
The sky is brighter at low ecliptic latitude (by 0.4 mag); at solar maximum (by 0.4 mag); and at high airmass (0.25 mag brighter at airmass 1.5).
The mean brightness of the sky varies by < 0.1 mag with time after astronomical twilight.
Light pollution (from street lamps etc) is visible to the naked eye at certain azimuths on the horizon, but its contribution to the continuum brightness at the zenith is < 0.03 mag in all bands. The NaD emission from street lamps brightens the sky in both V and R broad bands by about 0.07 mag. Total contamination (line + continuum) at the zenith is < 0.03 mag in U, approx 0.02 mag in B, approx 0.10 mag in V, and approx 0.10 mag in R.
The brightness of the sky shows no dependence on atmospheric extinction AV, for AV < 0.25 mag (as is the case on 80% of nights). In very dusty conditions (extinction more than a few tenths of a mag), the sky brightness may be several tenths of a mag brighter, probably because of enhanced back-scattering of streetlighting by the dust layer.
Further details can be found in ING technical note 115 (Benn C.R., Ellison S, 1998, also available as a postscript file).
For a more recent investigation of light pollution, see Marco Pedani's article "An Updated View of the Light Pollution at the Roque de los Muchachos Observatory" in the ING newsletter, 9, 28.
A typical La Palma night-sky spectrum is shown below: