Software and Computer Infrastructure Development at the ING
Examples of on-going software development projects are:
A user MIMIC to provide the astronomer with a pictorial representation of the complex light path and its components within the adaptive optics system (see example screen-shot below).
A java-based graphical user interface for finding appropriate guide stars and manipulating the autoguider probes.
A PC-based tip-tilt system that will control the NAOMI adaptive optics tip-tilt mirror.
A laser traffic control system that will assist in implementing the priority rules between telescopes at the observatory for propagation of the laser when observing with a laser guide star.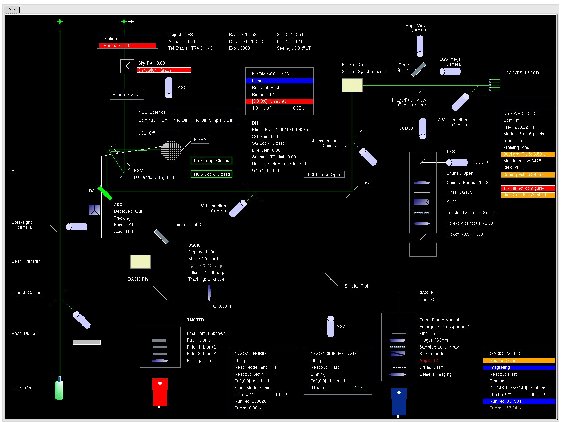 New AO system overview mimic - click to enlarge.
Future projects will include but not be limited to:
Development of a queue scheduled observing system that will permit observations to be carried out by ING staff on behalf of the principle investigators.
An upgrade of the WHT Telescope Control System to improving the overall reliability and maintainability.
A PC-based system for controlling the deformable mirror in ING's adaptive optics system.
Development of quick look data reduction software for selected common-user instruments.
To support the new applications that are being developed by the software engineers, the computer engineers are actively improving the computing infrastructure. In 2007 an investment will be made to upgrade the ORM network infrastructure from 100Mbps to 1Gbps. This will give ING's customers the ability to transfer images at faster rates between, for example, the data acquisition systems and personnel computers.Similarly the accademic network RedIRIS will be enhancing the bandwidth between Tenerife and Madrid to 622Mbps and the IAC will increase the bandwidth from 32Mbps to 10Gbps between La Palma and Tenerife. This will provide superior Internet access which in turn will directly benefit ING's customers.
The Group continues to look for cost-effective ways to improve reliability of the systems that they provide as well as reducing time for recovery for equipment that has failed. Some of the high-profile projects that are taking place within the Group includes:
Development of an enhanced troubleshooting system.
Improved multi-screen display for the WHT Instrument Control System.
Improved wireless connection in terms of coverage and throughput throughout ING sites.
Replacement of analogue telephones with IP telephones and the development of a videoconferencing infrastructure.
Don Carlos (05/11/2007)