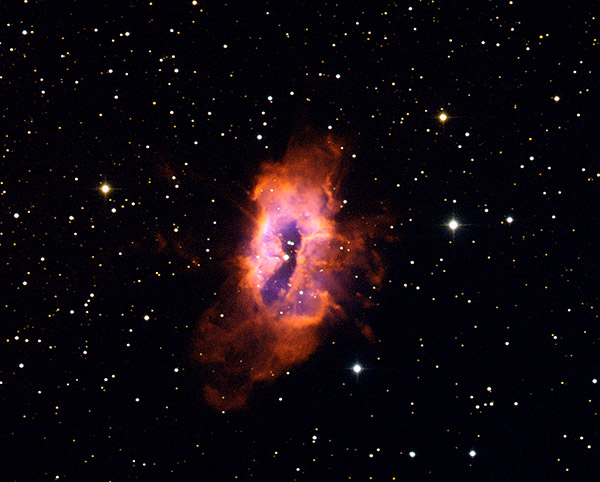 This composite image was obtained through the filters Hα (red, 3×120s), Sloan r´ (green, 3×30s) and [OIII] (blue, 3×120s) using the Wide Field Camera on the Isaac Newton Telescope on the 21st of October, 2013. Images were reduced using
THELI
, and processed using
FITS Liberator
and
MATLAB
. Field of view is 9×6 arcminutes, North up, East left. Credits: Teo Mocnik (ING) [
JPEG
|
TIFF
]
The bipolar planetary nebula (PN) Sh2-71 lies in the constellation of Aquila at a distance of 1 kpc. It was discovered by Rudolph Minkowski in 1946. Shortly after the discovery, the central star (the brightest star in the centre of the nebula) was identified to be a variable with a quasi-sinusoidal lightcurve with an amplitude of 0.8 magnitudes. Later observations showed sharp brightness dips, possibly eclipses, with a period of 17.2 days. Besides an unusual lightcurve, it also exhibits pronounced spectral variations.
Astronomers believe that the central star is a close binary, which could explain the observed variability as well as the necessary mechanism for collimating the outflowing material.
However, some astronomers claim that the real central star is actually a much dimmer star located to the North-West of the bright one. The true nature of the planetary nebula Sh2-71 will remain veiled until more data are obtained and new analysis and explanations are provided.


More information:
INT's Wide-Field Camera.