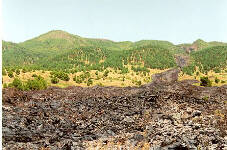 The Geology of La Palma
---
La Palma appears from space like a giant stone axe

. The north of the island is dominated by the giant Caldera de Taburiente, from which the Cumbre Nueva and Cumbre Vieja ridges run due south to the sea.
Like the rest of the Canary islands, the origin of La Palma is volcanic. There have been a number of eruptions in recent history, including those of Tahuye/Tacande (1585), Volcan Martin (1646), Volcan San Antonio (1677), Charco (1712) and Nambroque/San Juan/Las Manchas (1949)

. The most recent volcanic eruption was that of Teneguia in 1971

.
The most important geological feature of La Palma is the Caldera de Taburiente, which dominates the northern part of the island. This is a large depression, 5 km across, with an area of 30 sq km, and 2 km deep. It originated 2 million years ago, with the formation of a shield volcano some 20 km in diameter. However, the Caldera was formed not by the original volcanic activity, but by subsequent erosion. The result is one of the largest and most impressive erosion craters in the world


.
The highest peaks on the island are around the northern and eastern rim of the Caldera, including El Roque de los Muchachos (2426 m)

, Pico de la Cruz (2351 m), Piedra Llana (2321 m) and Pico de la Nieve (2239 m)

. The southern rim of the Caldera is dominated by Pico Bejenado (1854 m), probably formed by a different volcanic event from the rest of the Caldera

. There is a low saddle point in the south-east sector of the Caldera rim, at La Cumbrecita; this is accessible by vehicle, and affords spectacular views into the interior of the Caldera

.

. To the south-west the Caldera opens out into the Barranco de las Augustias, its principal drainage channel

; it is possible to walk into the Caldera along the barranco riverbed

.
The backbone of the southern half of the island is a north-south ridge running from the Caldera wall down to the sea. At the northern end of the ridge is the Cumbre Nueva


, which probably formed as a result of large landslides at a similar time to the formation of the Caldera de Taburiente. The central and southern part of the ridge is the Cumbre Vieja, formed by more recent volcanic activity

(despite the name, the Cumbre Vieja was formed much more recently than the Cumbre Nueva !). All of the historical volcanic eruptions on La Palma are associated with the Cumbre Vieja rift zone, and there are about 120 volcanic vents distributed along the its crest. It is possible to walk the Cumbre Vieja ridge, along the so-called 'route of the volcanoes'

Look here for an article from the Independent newspaper on the risk of tidal waves due to volcanic activity on La Palma.