First light (at ING): 6 July 2007.
Designed and built by: Université de Montréal, with partners at the Observatoire de Marseille and the Instituto de Astrofísica de Canarias.
Description: It is a new generation Fabry-Perot interferometer, whose chief and powerful advantage over traditional systems which have been used on telescopes is the high sensitivity photon counting detector.
Logo: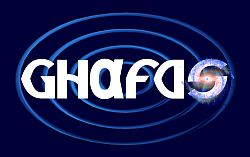 Time allocations:
Nights scheduled since semester 2007B
Instrument information: http://www.astro.umontreal.ca/ghafas/Site/Bienvenue_-_Bienvenido_-_Welcome.html
More:

Research impact:

Publications (41 from ING paper count; else: 2)
Public outreach:

Multimedia: