First light (at ING): 26 December 2003.
Designed and built by: Institute of Astronomy, University of Cambridge.
Description: CIRPASS is a near-infrared (0.9 - 1.8 microns) fibre-fed spectrograph. Two fibre feeds exist: a 490 element integral field unit (IFU) and a 150 fibre multi-object bundle. The large spectrograph is operated inside a freezer working at -40 degrees celsius. The spectrograph camera, the filters and the detector are inside a dewar which is cooled by liquid nitrogen. The optics deliver a high resolution (R>3000) spectrum on to a mirror surface which is then reimaged on to the detector. This provides the option to block out, or suppress, the bright OH emission by making the mirror (or mask) non-reflective at the positions of the OH lines.
Logo: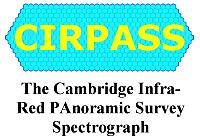 Time allocations:
Nights scheduled since semester 2007B
Instrument information: https://people.ast.cam.ac.uk/~optics/cirpass/cirpass_index.html
More:
A. Bunker et al., 2005, "CIRPASS on the William Herschel Telescope: Measuring the Global Star Formation Rate Over Most of History", ING Newsl., 10, 15.
Research impact:

Publications (2 from ING paper count)
Multimedia: