GALAXIES

ACTIVE GALACTIC NUCLEI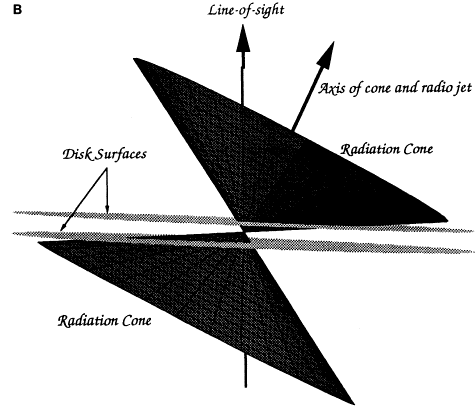 Active galaxies appear in a wide variety of guises, with observed phenomena covering vast ranges in luminosity and spatial scale. This diversity has hindered attempts to understand the nature of the fundamental energy source. In recent years, however, it has emerged that at least some of the radiation produced by active galactic nuclei (AGN) is emitted anisotropically. This has led to the development of "unified schemes" which seek to relate apparently differently classes of AGN. In one model an active nucleus is largely enclosed by a thick torus of obscuring material. The strong non-stellar continuum and broad emission lines characteristic of Seyfert 1 galaxies are seen when the object is oriented so that we have an unobstructed view of the nucleus but when the obscuring disk is edge-on, the nucleus is hidden and a Seyfert 2 galaxy is seen, with narrow emission lines and weak non-stellar continuum.

As a test of these ideas, the consortium called the "Lovers of Active Galaxies" observed the circum-nuclear region of the Seyfert 1 galaxy NGC 4151, using both the WHT and INT as part of and International Time Programme, looking for evidence of effects on the surrounding interstellar medium of ionizing radiation emitted by the nucleus. Like many Seyferts, NGC 4151 contains an extra-nuclear emission line region (ENLR) which is elongated over several kiloparsecs. The LAG consortium find that the ENLR emission line spectrum is characteristic of photoionization by a AGN continuum source and that the ionizing radiation field is very probably anisotropic.. Furthermore, the ionising parameter decreases with distance from the nucleus, consistent with geometrical dilution of the radiation of a central source. It is thought that ionising radiation from the nucleus could be being emitted into a broad cone whose axis is inclinned at a large angle to the plane of the galactic disk (by about 70 degrees) and that the ENLR is that segment of the disk which is illuminated by the cone. An elongated nuclear radio source is obsserved at an angle to the ENLR: the ejection axis of the radio-emitting plasma could conincide with the axis of the cone. This geometry is consistent with the fact that NGC 4151 is a Seyfert 1, since our line of sight would fall within the cone, giving a direct view of the nucleus.

More information
ING facilities involved:
Isaac Newton Telescope, using IDS
William Herschel Telescope, using ISIS
Some references:
Robinson, A. et al, 1994, "The extended narrow line region of NGC 4151", A&A, 291, 351

SHELL GALAXIES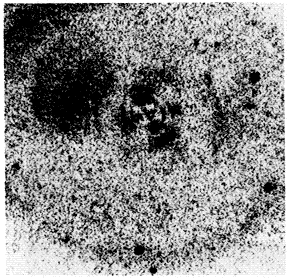 Shell galaxies are a comparatively recent discovery and are a phenomenon that is not yet fully understood. Shells may arise as a consequence of low-velocity galaxy mergers or alternatively be caused by density waves induced by weak galaxy interactions. Studies - at least in the northern hemisphere - are hampered by the lack of known shell galaxies. A northern hemisphere programme has therefore been started by researchers to identify and analyse them in larger numbers. Using the JKT CCD camera they obtained broad band R images for a sample of 14 bright ellipticals which had been selected on the basis of independant evidence for a merger or intercation, such as extensive dust or kinematically decoupled cores. A new shell-finding algorithm was employed which subtracts a sophisticated elliptical galaxy model and detects shells from inspection of residual isophotes. Two of the sample of 14 were previously known shell galaxies and new shells were discovered in eight others. Partly because the sample was biased towards positive detection and partly because of the sensitivity of the CCD technique, the proportion of shell galaxies detected is much higher than in previous surveys.

More information
ING facilities involved:
Jacobus Kapteyn Telescope with CCD camera
Some references:
Forbes, D. and Thomson, R., 1992, "Shells and isophotal distortions in elliptical galaxies", MNRAS, 254, 723

HALO STARS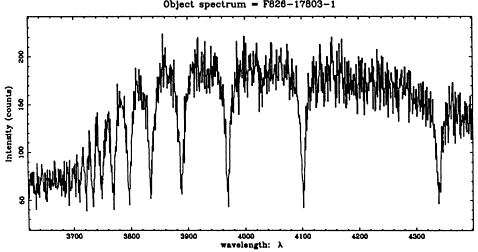 In our Galaxy, the stars of the stellar halo are amongst the oldest objects we can observe, and their spatial distribution, kinematics and chemistry are excellent indicators of the timescale and nature of the early evolution of the Galaxy. Since the halo stars are influenced by the whole distribution of the mass of the Galaxy including it's halo of dark matter, they also provide constraints on both the extent and shape of this mass distribution.

One current theory of galaxy formation suggests that the necessary densities for the formation of halo stars occurred in dwarf galaxy sized objects which later merged. If this model is correct, the stellar debris of these initial clumps should now be scattered throughout the halo and groups of stars should exist on the same orbits as their parents dust clouds. Most theories also predict considerable later accretion of halo stars from disrupted satellite galaxies, the remnants of which would also be on similar orbits. The kinematic streams should be detectable. Researchers have developed a selection technique to obtain high probability samples of halo blue horizontal branch (BHB) stars, using both direct and objective prism UK Schmidt plates scanned by the APM. The technique reliably eliminates white dwarf stars, quasars, hot subdwarfs and faint galaxies. 44 candidates were selected in this way in two fields using ISIS on the WHT; they identified 25 stars with A-type spectra in one field and 11 in another, and determined their velocities and distances. The dispersion of velocities of four stars in one field at 30kpc from the Sun is very low, 12 km sec-1, and suggests that these stars are physically associated and may have had a commonn origin. The remaining kinematic data show the Galaxy to have a massive halo extending to at least 30kpc with a flat rotation curve.

More information
ING facilities involved:
William Herschel Telescope, using ISIS
Some references:
Arnold, R and Gilmore, G., 1992, "Halo blue horizonntal branch stars - Spectroscopy in two fields", MNRAS, 257, 225