More information
ING facilities involved:
William Herschel Telescope, using GHRIL.
Some references:
Buscher, D.F. et al, 1990, "Detection of a bright feature on the surface of Betelgeuse", MNRAS, 245, 7
Wilson, R. W. et al.,1992, "High resolution Imaging of Betelgeuse and Mira", MNRAS, 257,369
Wilson, A. et al, 1991, "The changing surface of Betelgeuse", GEMINI Newsletter Royal Greenwich Obs., 34, 20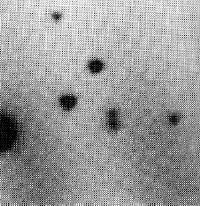 The recently discovered 1.6 ms binary radio pulsar PSR1957+20 shows radio eclipses whose duration indicates that the occulting body is substantially larger than the Roche lobe of the low-mass companion star. This suggests that this companion is evaporating through the action of a strong pulsar energy flux. An optical counterpart has been detected which shows brightness variations in phase with the 9.2 h orbital cycle. Astronomers have obtained optical charge coupled devive (CCD) images which show that the counterpart is one component of a close visual pair separated by 0.7 arcsec approximately. At maximum both are equally bright with combined V magnitude of 19.9, while at minimum PSR1957+20 is invisible. From spectroscopic observations we find that the contaminating star is a normal G star. The spectrum of PSR1957+20 shows intermittent H-alpha emission. The optical brightness of PSR1957+20 varies in phase with the radio Doppler velocity curve, and find that the amplitude is probably more than 3 magnitudes, minimum light coinciding with the radio eclipse. The optical light curve is consistent with heating of a hydrogen-rich low-mass white dwarf by high-energy radiation from the nearby millisecond pulsar.
The radio observations indicate an extended region of the plasma surrounding the companion, and it has been suggested that this may be due to the evaporation of the companion by the intensity of the radiation from the neutron star. The high quality light curve, obtained in sub-arcsecond seeing conditions, is being used to investigate various properties of the system, for example the temperature difference across the dwarf and the physics of the heating and evaporation mechanisms.

More information
ING facilities involved:
William Herschel Telescope using a CCD camera at a Nasmyth focus and the Faint Object Spectrograph (FOS) at the Cassegrain focus
Pictures:
Callanan, P.J. et al, 1989, "The optical light curve of PSR1957+20", MNRAS, 240, 31
Charles, P., 1988, "CCD Pulsar Imaging", Gemini Newsletter, 21, 1.
van Paradijs, J., Allington-Smith, J., Callanan, P., Charles, P.A., Hassall, B.J.M., Machin, G., Mason, K.O., Naylor, T. & Smale A.P., 1988, "Optical observations of the eclipsing binary radio pulsar PSR1957+20", Nature, 334, 684.