The night of April 29 1996 saw the first light for a new instrument at the INT, namely ESA-MUSICOS. This device has been developed as part of Multi-Site Continuous Spectroscopy (MUSICOS) project led by Claude Catala (Toulouse/OMP) and Bernard Foing (ESA Space Science Department).
In November 1996, some improvements were carried out prior to the large MUSICOS 96 Multi Site Continuous Campaign. This instrument is offered by Bernard Foing to stay at the INT at least until the end of 1998.
This is a fibre fed cross-dispersed echelle spectrograph, with a resolution of about 30,000. It has two standard wavelength ranges, covering 3800 to 5900 Å and 5700 to 8500 Å. The spectrograph is located in a room with constant temperature next to the observing floor; this means that the spectrograph will be extremely stable. Being fibre-fed from the Cassegrain focus, it is adapted to the acquisition and guiding system of the INT, and very easy to operate.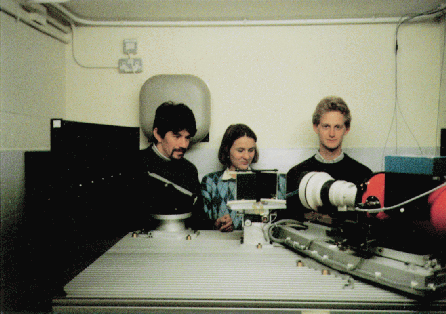 The MUSICOS spectrograph with Bernard Foing, Joana Oliveira and Eric Stempels
ESA-MUSICOS first light on first night at INT
The first science exposure was obtained at about UT 01:00 April 30 1996. The image shows a 5 sec integration on alpha Boo. An extracted order at about 5800 Å is shown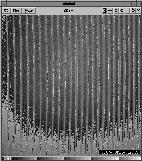 This second copy of the MUSICOS spectrometer has been built at ESA-ESTEC by Bernard Foing, Thierry Beaufort, and Eric Stempels (Leiden). The science team has been led by Rudolf Le Poole, and for this commissioning run has included Jeroen de Jong, Philippe Gondoin and Joana Oliveira. Local support was provided by Daniel Mathews, Bart van Venrooy, Claudio Moreno and members of the ING staff.
Results and future plans
The technical operations, data analysis and scientific results from the commissioning run are described in the theses of Joana Oliveira and Eric Stempels, and in papers in the litterature.
Based on the satisfactory results obtained at INT and on the interest from the community, Bernard Foing has proposed to offer the ESA-MUSICOS spectrometer for collaborative use in semester 97A, and for open use after this period.