The bias value, readout noise and gain are monitored by the Support Astronomers for both available cameras EEV10 (blueish lines) and Red+2 (reddish lines).
SA, please take measurements of these values in D nights and, if possible, also at the beginning of each observing run with a visiting astronomer, and send them to the IDS instrument specialist. Report any anomalous value to the Operations Team via a Fault Report.
Results of the CCD linearity measurements can be found on
D-tests results
web-pages. There are more records in the
automatic detetctor quality control
pages.
The following plots show historic values of the bias, readout noise and gain for the two CCDs EEV10 and Red+2, as read from the table using a Python script created by the 2018/2019 ING student Thomas Davison.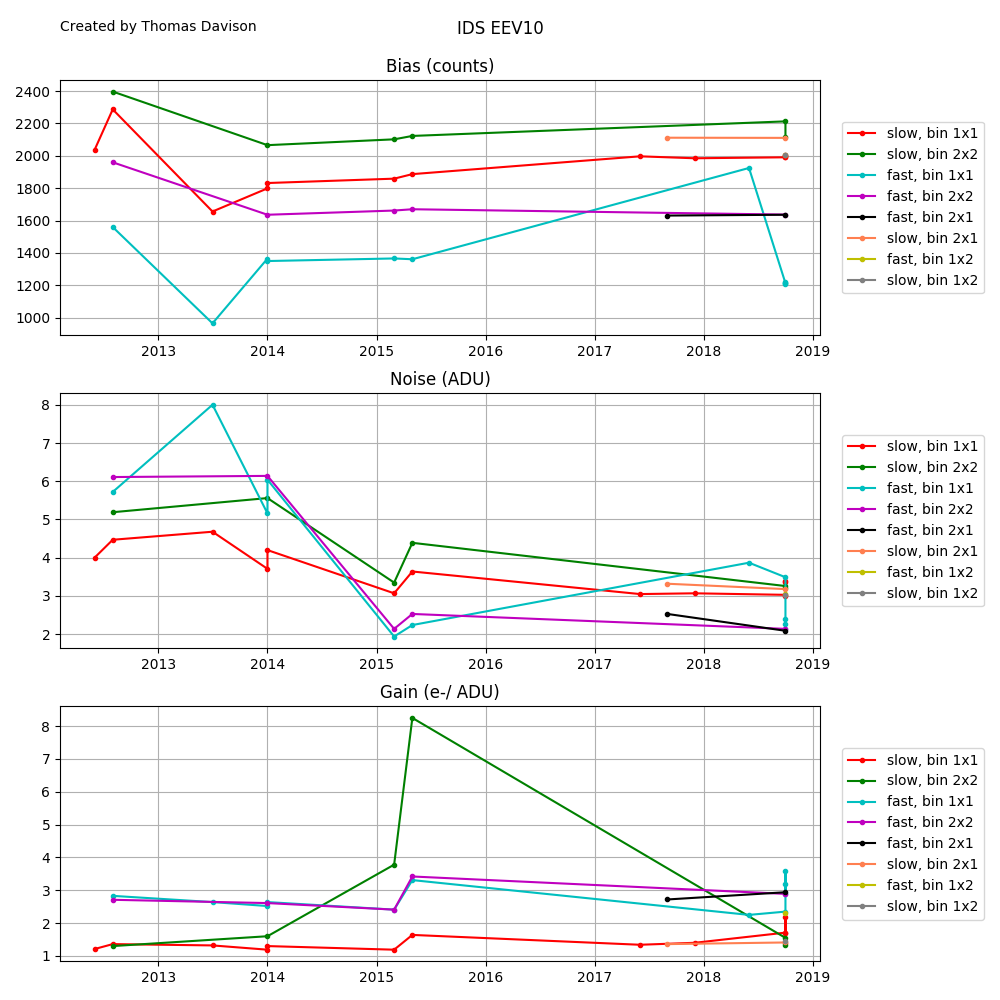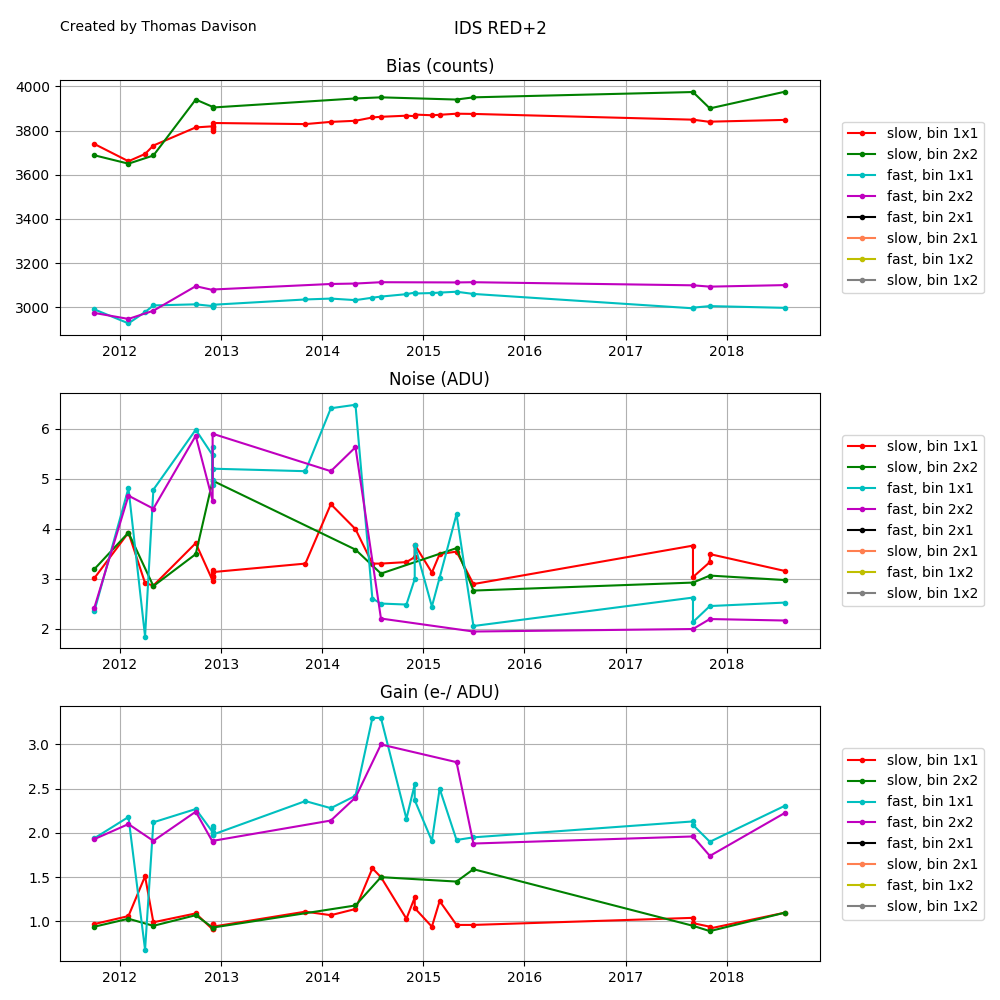 | CCD | Date | Read mode | Binning | Bias | Noise (ADU) | Gain (e-/ ADU) |
| --- | --- | --- | --- | --- | --- | --- |
| EEV10 | Nominal | Slow | 1x1 | 1955 | 3.5 | 2.1 |
| RED+2 | Nominal | Slow | 1x1 | 3720 | 5.5 | 0.95 |
| RED+2 | 15 Oct 2011 | Slow | 1x1 | 3739 | 3.01 | 0.97 |
| RED+2 | 15 Oct 2011 | Fast | 1x1 | 2991 | 2.35 | 1.94 |
| RED+2 | 15 Oct 2011 | Slow | 2x2 | 3688 | 3.19 | 0.94 |
| RED+2 | 15 Oct 2011 | Fast | 2x2 | 2975 | 2.42 | 1.93 |
| RED+2 | 3 Feb 2012 | Slow | 1x1 | 3661 | 3.92 | 1.06 |
| RED+2 | 3 Feb 2012 | Fast | 1x1 | 2928 | 4.81 | 2.18 |
| RED+2 | 3 Feb 2012 | Slow | 2x2 | 3650 | 3.92 | 1.03 |
| RED+2 | 3 Feb 2012 | Fast | 2x2 | 2948 | 4.66 | 2.10 |
| RED+2 | 3 Apr 2012 | Slow | 1x1 | 3694 | 2.91 | 1.51 |
| RED+2 | 3 Apr 2012 | Fast | 1x1 | 2979 | 1.84 | 0.68 |
| RED+2 | 7 May 2012 | Slow | 1x1 | 3732 | 2.86 | 0.99 |
| RED+2 | 7 May 2012 | Fast | 1x1 | 3009 | 4.78 | 2.12 |
| RED+2 | 7 May 2012 | Slow | 2x2 | 3687 | 2.85 | 0.95 |
| RED+2 | 7 May 2012 | Fast | 2x2 | 2985 | 4.40 | 1.91 |
| EEV10 | 20 Jun 2012 | Slow | 1x1 | 2036 | 4.00 | 1.21 |
| EEV10 | 28 Aug 2012 | Slow | 1x1 | 2287 | 4.47 | 1.36 |
| EEV10 | 28 Aug 2012 | Fast | 1x1 | 1560 | 5.72 | 2.83 |
| EEV10 | 28 Aug 2012 | Slow | 2x2 | 2397 | 5.19 | 1.30 |
| EEV10 | 28 Aug 2012 | Fast | 2x2 | 1960 | 6.11 | 2.71 |
| Red+2 | 23 Oct 2012 | Slow | 1x1 | 3814 | 3.71 | 1.09 |
| Red+2 | 23 Oct 2012 | Fast | 1x1 | 3014 | 5.98 | 2.27 |
| Red+2 | 23 Oct 2012 | Slow | 2x2 | 3940 | 3.49 | 1.07 |
| Red+2 | 23 Oct 2012 | Fast | 2x2 | 3096 | 5.86 | 2.24 |
| Red+2 | 21 Dec 2012 | Slow | 1x1 | 3819 | 2.96 | 0.91 |
| Red+2 | 21 Dec 2012 | Fast | 1x1 | 3006 | 5.47 | 2.01 |
| Red+2 | 22 Dec 2012 | Slow | 1x1 | 3800 | 3.06 | 0.97 |
| Red+2 | 22 Dec 2012 | Fast | 1x1 | 3009 | 4.88 | 2.08 |
| Red+2 | 23 Dec 2012 | Slow | 1x1 | 3816 | 3.18 | 0.97 |
| Red+2 | 23 Dec 2012 | Fast | 1x1 | 3004 | 5.63 | 2.06 |
| Red+2 | 23 Dec 2012 | Slow | 2x2 | 3907 | | 0.93 |
| Red+2 | 23 Dec 2012 | Fast | 2x2 | 3079 | 4.56 | 1.90 |
| Red+2 | 24 Dec 2012 | Slow | 1x1 | 3808 | 3.03 | 0.91 |
| Red+2 | 24 Dec 2012 | Fast | 1x1 | 3005 | 4.98 | 1.98 |
| Red+2 | 24 Dec 2012 | Slow | 2x2 | 3904 | 4.96 | 0.93 |
| Red+2 | 24 Dec 2012 | Fast | 2x2 | 3081 | 5.90 | 1.91 |
| Red+2 | 30 Dec 2012 | Slow | 1x1 | 3834 | 3.13 | 0.94 |
| Red+2 | 30 Dec 2012 | Fast | 1x1 | 3012 | 5.20 | 1.98 |
| EEV10 | 15 Jul 2013 | Slow | 1x1 | 1656 | 4.68 | 1.32 |
| EEV10 | 15 Jul 2013 | Fast | 1x1 | 965 | 8.00 | 2.64 |
| Red+2 | 21 Nov 2013 | Slow | 1x1 | 3829 | 3.3 | 1.11 |
| Red+2 | 21 Nov 2013 | Fast | 1x1 | 3036 | 5.15 | 2.36 |
| EEV10 | 07 Jan 2014 | Slow | 1x1 | 1799 | 3.71 | 1.19 |
| EEV10 | 07 Jan 2014 | Fast | 1x1 | 1365 | 5.16 | 2.52 |
| EEV10 | 10 Jan 2014 | Slow | 1x1 | 1832 | 4.2 | 1.3 |
| EEV10 | 10 Jan 2014 | Fast | 1x1 | 1350 | 6.04 | 2.64 |
| EEV10 | 10 Jan 2014 | Slow | 2x2 | 2066 | 5.56 | 1.60 |
| EEV10 | 10 Jan 2014 | Fast | 2x2 | 1636 | 6.14 | 2.61 |
| Red+2 | 03 Feb 2014 | Slow | 1x1 | 3839 | 4.49 | 1.07 |
| Red+2 | 03 Feb 2014 | Fast | 1x1 | 3040 | 6.41 | 2.28 |
| Red+2 | 03 Feb 2014 | slow | 2x2 | 3931 | 3.98 | 1.05 |
| Red+2 | 03 Feb 2014 | Fast | 2x2 | 3106 | 5.15 | 2.14 |
| Red+2 | 13 May 2014 | Slow | 1x1 | 3844 | 3.99 | 1.14 |
| Red+2 | 13 May 2014 | Fast | 1x1 | 3033 | 6.48 | 2.42 |
| Red+2 | 13 May 2014 | Slow | 2x2 | 3945 | 3.58 | 1.18 |
| Red+2 | 13 May 2014 | Fast | 2x2 | 3108 | 5.63 | 2.40 |
| Red+2 | 17 July 2014 | Slow | 1x1 | 3859 | 3.30 | 1.60 |
| Red+2 | 17 July 2014 | Fast | 1x1 | 3044 | 2.60 | 3.30 |
| Red+2 | 20 Aug 2014 | Slow | 2x2 | 3950 | 3.10 | 1.50 |
| Red+2 | 20 Aug 2014 | Fast | 2x2 | 3114 | 2.20 | 3.00 |
| Red+2 | 20 Aug 2014 | Slow | 1x1 | 3862 | 3.30 | 1.50 |
| Red+2 | 20 Aug 2014 | Fast | 1x1 | 3049 | 2.50 | 3.30 |
| Red+2 | 06 Nov 2014 | Slow | 1x1 | 3867 | 3.33 | 1.03 |
| Red+2 | 06 Nov 2014 | Fast | 1x1 | 3060 | 2.48 | 2.16 |
| Red+2 | 01 Dec 2014 | Slow | 1x1 | 3865 | 3.43 | 1.27 |
| Red+2 | 01 Dec 2014 | Fast | 1x1 | 3067 | 2.99 | 2.55 |
| Red+2 | 29 Dec 2014 | Slow | 1x1 | 3872 | 3.68 | 1.15 |
| Red+2 | 29 Dec 2014 | Fast | 1x1 | 3063 | 3.68 | 2.37 |
| Red+2 | 04 Feb 2015 | Slow | 1x1 | 3869 | 3.12 | 0.94 |
| Red+2 | 04 Feb 2015 | Fast | 1x1 | 3065 | 2.44 | 1.91 |
| EEV10 | 02 Mar 2015 | Slow | 1x1 | 1859 | 3.07 | 1.19 |
| EEV10 | 02 Mar 2015 | Fast | 1x1 | 1366 | 1.94 | 2.41 |
| EEV10 | 02 Mar 2015 | Slow | 2x2 | 2102 | 3.35 | 3.78 |
| EEV10 | 02 Mar 2015 | Fast | 2x2 | 1662 | 2.14 | 2.41 |
| Red+2 | 10 Mar 2015 | Slow | 1x1 | 3871 | 3.49 | 1.23 |
| Red+2 | 10 Mar 2015 | Fast | 1x1 | 3067 | 3.02 | 2.50 |
| EEV10 | 11 May 2015 | Slow | 2x2 | 2123 | 4.39 | 8.25 |
| EEV10 | 11 May 2015 | Fast | 2x2 | 1670 | 2.53 | 3.42 |
| EEV10 | 11 May 2015 | Slow | 1x1 | 1887 | 3.64 | 1.64 |
| EEV10 | 11 May 2015 | Fast | 1x1 | 1361 | 2.24 | 3.31 |
| Red+2 | 10 May 2015 | Slow | 2x2 | 3940 | 3.61 | 1.45 |
| Red+2 | 20 May 2015 | Fast | 2x2 | 3113 | | 2.80 |
| Red+2 | 20 May 2015 | Slow | 1x1 | 3876 | 3.54 | 0.96 |
| Red+2 | 20 May 2015 | Fast | 1x1 | 3071 | 4.29 | 1.92 |
| Red+2 | 20 Jul 2015 | Slow | 2x2 | 3950 | 2.76 | 1.59 |
| Red+2 | 20 Jul 2015 | Fast | 2x2 | 3114 | 1.94 | 1.88 |
| Red+2 | 20 Jul 2015 | Slow | 1x1 | 3875 | 2.89 | 0.96 |
| Red+2 | 20 Jul 2015 | Fast | 1x1 | 3061 | 2.05 | 1.95 |
| EEV10 | 07 Jun 2017 | Slow | 1x1 | 1997 | 3.05 | 1.34 |
| EEV10 | 4 Sep 2017 | Slow | 2x1 | 2112 | 3.32 | 1.36 |
| EEV10 | 4 Sep 2017 | Fast | 2x1 | 1631 | 2.53 | 2.72 |
| Red+2 | 5 Sep 2017 | Slow | 1x1 | 3849 | 3.66 | 1.04 |
| Red+2 | 5 Sep 2017 | Fast | 1x1 | 2996 | 2.62 | 2.13 |
| Red+2 | 20 Sep 2017 | Slow | 2x2 | 3974 | 2.92 | 0.95 |
| Red+2 | 20 Sep 2017 | Fast | 2x2 | 3100 | 1.99 | 1.96 |
| Red+2 | 20 Sep 2017 | Slow | 1x1 | 3849 | 3.03 | 0.98 |
| Red+2 | 20 Sep 2017 | Fast | 1x1 | 2999 | 2.13 | 2.09 |
| Red+2 | 28 Nov 2017 | Slow | 2x2 | 3900 | 3.06 | 0.89 |
| Red+2 | 28 Nov 2017 | Fast | 2x2 | 3094 | 2.19 | 1.74 |
| Red+2 | 28 Nov 2017 | Slow | 1x1 | 3839 | 3.33 | 0.94 |
| Red+2 | 28 Nov 2017 | Fast | 1x1 | 3006 | 2.45 | 1.90 |
| Red+2 | 29 Nov 2017 | Slow | 1x1 | 3840 | 3.49 | 0.92 |
| EEV10 | 12 Dec 2017 | Slow | 1x1 | 1985 | 3.07 | 1.40 |
| EEV10 | 13 Jun 2018 | Fast | 1x1 | 1925 | 3.87 | 2.25 |
| Red+2 | 20 Aug 2018 | Slow | 1x1 | 3848 | 3.15 | 1.1 |
| Red+2 | 20 Aug 2018 | Fast | 1x1 | 2998 | 2.52 | 2.31 |
| Red+2 | 20 Aug 2018 | Slow | 2x2 | 3976 | 2.97 | 1.1 |
| Red+2 | 20 Aug 2018 | Fast | 2x2 | 3101 | 2.16 | 2.23 |
| EEV10 | 24 Oct 2018 | Slow | 1x1 | 1991 | 3.03 | 1.71 |
| EEV10 | 24 Oct 2018 | Fast | 1x1 | 1213 | 3.49 | 2.35 |
| EEV10 | 25 Oct 2018 | Slow | 1x1 | 2006 | 3.37 | 1.71 |
| EEV10 | 25 Oct 2018 | Fast | 1x1 | 1216 | 2.41 | 3.60 |
| EEV10 | 26 Oct 2018 | Slow | 2x2 | 2213 | 3.26 | 1.55 |
| EEV10 | 26 Oct 2018 | Fast | 2x2 | 1637 | 2.14 | 2.89 |
| EEV10 | 26 Oct 2018 | Slow | 2x1 | 2111 | 3.18 | 1.41 |
| EEV10 | 26 Oct 2018 | Fast | 2x1 | 1636 | 2.09 | 2.94 |
| EEV10 | 26 Oct 2018 | Slow | 1x2 | 2005 | 3.02 | 1.44 |
| EEV10 | 26 Oct 2018 | Fast | 1x2 | 2005 | 3.06 | 2.30 |
| EEV10 | 28 Oct 2018 | Slow | 1x1 | 1992 | 3.01 | 2.19 |
| EEV10 | 28 Oct 2018 | Fast | 1x1 | 1211 | 2.13 | 3.20 |
| EEV10 | 30 Oct 2018 | Slow | 1x1 | 1999 | 3.39 | 1.38 |
| EEV10 | 30 Oct 2018 | Fast | 1x1 | 1218 | 2.26 | 2.90 |
| EEV10 | 30 Oct 2018 | Slow | 2x2 | 2116 | 3.22 | 1.34 |
| EEV10 | 30 Oct 2018 | Fast | 2x2 | 1641 | 2.14 | 2.73 |
| Red+2 | 14 Nov 2018 | Slow | 1x1 | 3828 | 3.22 | 0.94 |
| Red+2 | 14 Nov 2018 | Fast | 1x1 | 2993 | 2.54 | 2.07 |
| Red+2 | 25 Nov 2018 | Slow | 1x1 | 3834 | 3.41 | 0.93 |
| Red+2 | 25 Nov 2018 | Slow | 2x2 | 3955 | 3.10 | 0.89 |
| EEV10 | 26 Nov 2018 | Slow | 1x1 | 1987 | 3.05 | 1.37 |
| EEV10 | 26 Nov 2018 | Fast | 1x1 | 1202 | 2.04 | 2.80 |
| EEV10 | 26 Nov 2018 | Slow | 2x2 | 2102 | 3.23 | 3.19 |
| EEV10 | 26 Nov 2018 | Fast | 2x2 | 1625 | 2.18 | 2.72 |
| Red+2 | 14 Jan 2019 | Slow | 1x1 | 3816 | 3.24 | 0.96 |
| Red+2 | 14 Jan 2019 | Fast | 1x1 | 2982 | 2.47 | 1.99 |
| Red+2 | 14 Feb 2019 | Slow | 1x1 | 3815 | 3.23 | 0.93 |
| Red+2 | 14 Feb 2019 | Fast | 1x1 | 2986 | 2.56 | 1.89 |
| Red+2 | 14 Feb 2019 | Slow | 2x2 | 3940 | 3.05 | 0.90 |
| Red+2 | 14 Feb 2019 | Fast | 2x2 | 3089 | 2.26 | 1.83 |
| EEV10 | 21 Feb 2019 | Slow | 1x1 | 1941 | 2.98 | 1.33 |
| EEV10 | 21 Feb 2019 | Fast | 1x1 | 1216 | 2.10 | 2.74 |
| EEV10 | 22 Feb 2019 | Slow | 1x1 | 1993 | 3.34 | 1.36 |
| EEV10 | 22 Feb 2019 | Fast | 1x1 | 1214 | 2.32 | 2.69 |
| EEV10 | 22 Feb 2019 | Slow | 2x2 | 1629 | 2.32 | 2.69 |
| EEV10 | 22 Feb 2019 | Fast | 2x2 | 2090 | 3.26 | 1.32 |
| Red+2 | 28 March 2019 | Slow | 1x1 | 3814 | 3.28 | 0.78 |
| Red+2 | 28 March 2019 | Fast | 1x1 | 2983 | 2.39 | 1.96 |
| Red+2 | 28 March 2019 | Slow | 2x2 | 3942 | 3.24 | 3.02 |
| Red+2 | 28 March 2019 | Fast | 2x2 | 3089 | 2.23 | |
| Red+2 | 28 March 2019 | Slow | 2x1 | 3938 | 2.99 | 0.94 |
| Red+2 | 28 March 2019 | Slow | 1x2 | 3811 | 3.16 | 0.94 |
| Red+2 | 22 April 2019 | Slow | 1x1 | 3814 | 3.18 | 0.94 |
| Red+2 | 22 April 2019 | Fast | 1x1 | 2979 | 2.47 | 2.02 |
| Red+2 | 22 April 2019 | Slow | 2x2 | 3947 | 3.12 | 0.91 |
| Red+2 | 22 April 2019 | Fast | 2x2 | 3090 | 2.12 | 1.89 |
| EEV10 | 2 Jul 2019 | Slow | 1x1 | 2001 | 3.10 | 1.35 |
| EEV10 | 22 Jul 2019 | Slow | 1x1 | 1996 | 3.33 | 1.44 |
| EEV10 | 22 Jul 2019 | Fast | 1x1 | 1182 | 2.16 | 2.95 |
| EEV10 | 22 Jul 2019 | Slow | 2x2 | 2106 | 3.89 | 1.41 |
| EEV10 | 22 Jul 2019 | Fast | 2x2 | 1629 | 2.37 | 2.89 |
| EEV10 | 25 Sep 2019 | Slow | 1x1 | 1990 | 2.97 | 1.35 |
| EEV10 | 25 Sep 2019 | Fast | 1x1 | 1194 | 2.01 | 2.75 |
| EEV10 | 25 Sep 2019 | Slow | 2x2 | 2096 | 3.21 | 2.59 |
| EEV10 | 25 Sep 2019 | Fast | 2x2 | 1628 | 2.04 | 2.69 |
| EEV10 | 13 Nov 2019 | Slow | 1x1 | 1984 | 3.83 | 1.25 |
| EEV10 | 13 Nov 2019 | Fast | 1x1 | 1194 | 5.36 | 2.66 |
| EEV10 | 13 Nov 2019 | Slow | 2x2 | 2088 | 3.82 | 1.19 |
| EEV10 | 13 Nov 2019 | Fast | 2x2 | 1623 | 5.21 | 2.47 |
| EEV10 | 4 Mar 2020 | Slow | 1x1 | 1978 | 4.84 | 1.43 |
| EEV10 | 4 Mar 2020 | Fast | 1x1 | 1182 | 6.48 | 2.94 |
| EEV10 | 4 Mar 2020 | Slow | 2x2 | 2098 | 5.55 | 1.41 |
| EEV10 | 4 Mar 2020 | Fast | 2x2 | 1618 | 6.77 | 2.85 |
| EEV10 | 6 May 2020 | Slow | 1x1 | - | 4.08 | 1.27 |
| EEV10 | 6 May 2020 | Fast | 1x1 | - | 6.01 | 2.66 |
| EEV10 | 6 May 2020 | Slow | 2x2 | - | 4.41 | 1.23 |
| EEV10 | 6 May 2020 | Fast | 2x2 | - | 5.58 | 2.46 |
| Red+2 | 2 Jun 2020 | Slow | 1x1 | - | 3.12 | 0.93 |
| Red+2 | 2 Jun 2020 | Fast | 1x1 | - | 5.01 | 2.04 |
| Red+2 | 2 Jun 2020 | Slow | 2x2 | - | 3.29 | 0.90 |
| Red+2 | 2 Jun 2020 | Fast | 2x2 | - | 4.30 | 1.87 |
| EEV10 | 15 Jun 2020 | Slow | 1x1 | - | 3.97 | 1.24 |
| EEV10 | 15 Jun 2020 | Fast | 1x1 | - | 5.43 | 2.60 |
| EEV10 | 15 Jun 2020 | Slow | 2x2 | - | 4.36 | 1.20 |
| EEV10 | 15 Jun 2020 | Fast | 2x2 | - | 5.46 | 2.47 |
| Red+2 | 13 Jul 2020 | Slow | 1x1 | 3840 | 3.33 | 0.96 |
| Red+2 | 13 Jul 2020 | Fast | 1x1 | 2987 | 2.52 | 2.04 |
| Red+2 | 13 Jul 2020 | Slow | 2x2 | 3976 | 2.94 | 0.92 |
| Red+2 | 13 Jul 2020 | Fast | 2x2 | 3098 | 2.20 | 1.90 |
| Red+2 | 28 Sep 2020 | Slow | 1x1 | 3811 | 2.93 | 1.69 |
| Red+2 | 28 Sep 2020 | Fast | 1x1 | 2964 | 2.21 | 2.27 |
| Red+2 | 17 Mar 2021 | Slow | 1x1 | 3716 | 3.25 | 1.24 |
| Red+2 | 17 Mar 2021 | Fast | 1x1 | 2996 | 2.52 | 2.52 |
| Red+2 | 17 Mar 2021 | Slow | 2x2 | 3772 | 3.05 | 1.17 |
| Red+2 | 17 Mar 2021 | Fast | 2x2 | 3036 | 2.41 | 2.39 |
| Red+2 | 11 Apr 2021 | Slow | 1x1 | 3658 | 3.60 | 1.18 |
| Red+2 | 11 Apr 2021 | Fast | 1x1 | 2930 | 2.65 | 1.95 |
| Red+2 | 11 Apr 2021 | Slow | 2x2 | 3647 | 5.65 | 3.77 |
| Red+2 | 11 Apr 2021 | Fast | 2x2 | 2941 | 2.71 | 3.19 |
| EEV10 | 30 May 2021 | Slow | 1x1 | 2050 | 3.20 | 1.35 |
| EEV10 | 30 May 2021 | Fast | 1x1 | 1444 | 2.25 | 2.85 |
| EEV10 | 30 May 2021 | Slow | 2x2 | 2250 | 3.40 | 1.30 |
| EEV10 | 30 May 2021 | Fast | 2x2 | 1873 | 2.30 | 2.70 |
| EEV10 | 4 Aug 2021 | Slow | 1x1 | 2053 | 2.27 | 1.30 |
| EEV10 | 4 Aug 2021 | Fast | 1x1 | 1414 | 2.19 | 5.72 |
| EEV10 | 4 Aug 2021 | Slow | 2x2 | 2250 | 3.43 | 2.88 |
| EEV10 | 4 Aug 2021 | Fast | 2x2 | 1861 | 2.27 | 5.83 |
| Red+2 | 20 Sep 2021 | Slow | 1x1 | 3675 | 3.72 | 1.11 |
| Red+2 | 20 Sep 2021 | Fast | 1x1 | 2938 | 5.79 | 2.25 |
| Red+2 | 12 Jan 2022 | Slow | 1x1 | 3637 | 2.78 | 1.03 |
| Red+2 | 10 Feb 2022 | Fast | 1x1 | 2911 | 2.05 | 2.12 |
| Red+2 | 10 Feb 2022 | Slow | 1x1 | 3620 | 2.78 | 1.03 |
| EEV10 | 24 Feb 2022 | Slow | 1x1 | 2004 | 4.16 | 1.22 |
| EEV10 | 24 Feb 2022 | Fast | 1x1 | 1411 | 1.22 | 0.54 |
| EEV10 | 5 April 2022 | Slow | 1x1 | 2023 | 4.42 | 1.16 |
| EEV10 | 5 April 2022 | Fast | 1x1 | 1432 | 5.41 | 2.34 |
| EEV10 | 6 April 2022 | Fast | 1x1 | 1423 | 2.14 | 2.70 |
| EEV10 | 6 April 2022 | Slow | 1x1 | 2022 | 3.17 | 1.31 |
| EEV10 | 6 April 2022 | Fast | 2x2 | 1851 | 2.22 | 2.79 |
| EEV10 | 6 April 2022 | Slow | 2x2 | 2228 | 3.37 | 0.52 |
| Red+2 | 11 April 2022 | Fast | 1x1 | 2948 | 2.14 | 2.82 |
| Red+2 | 11 April 2022 | Slow | 1x1 | 3680 | 2.94 | 1.41 |
| Red+2 | 11 April 2022 | Fast | 2x2 | 2957 | 2.08 | 0.04 |
| Red+2 | 11 April 2022 | Slow | 2x2 | 3664 | 2.93 | 4.77 |
| EEV10 | 4 July 2022 | Slow | 1x1 | 2017 | 3.16 | 1.21 |
| Red+2 | 18 July 2022 | Slow | 1x1 | 3348 | 3.24 | 1.12 |
| Red+2 | 18 July 2022 | Fast | 1x1 | 2997 | 2.39 | 2.38 |
| Red+2 | 1 August 2022 | Slow | 1x1 | 3851 | 3.31 | 1.04 |
| Red+2 | 1 August 2022 | Fast | 1x1 | 2998 | 2.54 | 0.20 |
| EEV10 | 18 August 2022 | Slow | 1x1 | 2007 | 3.05 | 1.56 |
| Red+2 | 7 September 2022 | Slow | 1x1 | 3838 | 3.43 | 1.01 |
| Red+2 | 7 September 2022 | Fast | 1x1 | 2993 | 2.54 | 2.07 |
| Red+2 | 10 Ocotober 2022 | Slow | 1x1 | 3839 | 3.36 | 1.01 |
| Red+2 | 30 January 2023 | Slow | 1x1 | 3669 | 3.36 | 1.08 |
| Red+2 | 30 January 2023 | Fast | 1x1 | 2962 | 2.54 | 2.20 |
| EEV10 | 30 March 2023 | Slow | 1x1 | 1856 | 3.87 | 1.28 |
| EEV10 | 30 March 2023 | Fast | 1x1 | 1389 | 2.33 | - |
| EEV10 | 1 April 2023 | Slow | 1x1 | 1848 | 3.76 | 1.21 |
| EEV10 | 1 April 2023 | Fast | 1x1 | 1396 | 5.33 | 2.51 |
| EEV10 | 2 April 2023 | Slow | 1x1 | 1865 | 3.05 | 1.29 |
| EEV10 | 2 April 2023 | Slow | 2x2 | 2166 | 3.34 | 1.27 |
| Red+2 | 9 June 2023 | Slow | 1x1 | 4073 | 3.49 | 0.92 |
| Red+2 | 9 June 2023 | Fast | 1x1 | 3132 | 2.82 | 1.93 |
| EEV10 | 20 June 2023 | Slow | 1x1 | 2106 | 3.15 | 1.34 |
| EEV10 | 20 June 2023 | Slow | 2x2 | 2302 | 3.49 | 1.32 |
| Red+2 | 8 Sep 2023 | Slow | 1x1 | 3837 | 3.34 | 0.95 |
| Red+2 | 8 Sep 2023 | Fast | 1x1 | 2991 | 2.37 | 2.03 |
| Red+2 | 8 Sep 2023 | Slow | 2x2 | 3970 | 3.01 | 3.42 |
| Red+2 | 8 Sep 2023 | Fast | 2x2 | 3101 | 2.37 | 2.28 |
| EEV10 | 15 Oct 2023 | Slow | 1x1 | 1998 | 3.11 | 3.12 |
| EEV10 | 15 Oct 2023 | Fast | 1x1 | 1658 | 2.09 | 6.01 |
| EEV10 | 15 Oct 2023 | Slow | 2x2 | 2140 | 3.36 | 2.94 |
| EEV10 | 15 Oct 2023 | Fast | 2x2 | 1190 | 2.02 | 6.62 |
| CCD | Date | Read mode | Binning | Bias | Noise (ADU) | Gain (e-/ ADU) |