First light (at ING): 15 February 2003.
Designed and built by: Instituto de Astrofísica de Canarias is the main builder and designer. Other collaborating institutions are the UK Astronomy Technology Centre and the Isaac Newton Group of Telescopes.
Description: LIRIS is a long-slit intermediate-resolution infrared spectrograph to be mounted on the Cassegrain focus of the 4.2 m William Herschel Telescope (WHT).
Logo: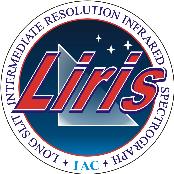 Time allocations:
Nights scheduled since semester 2007B
Instrument information: http://www.ing.iac.es/astronomy/instruments/liris/index.html
More:

Research impact:

Public outreach:

Multimedia: