A New Planetary Nebula Discovered by IPHAS
The image below is a new planetary nebula discovered by the
INT/WFC Photometric H-alpha Survey of the Northern Galactic Plane (IPHAS)
. It is a two-colour image, red for H-alpha and green for [OIII], and it has been obtained using the Wide-Field Camera on the Isaac Newton Telescope. North is to the right and East is to the top. The exposure times amounted 50 minutes in H-alpha and 30 minutes in [OIII]. The nebula was confirmed to be a relatively old planetary nebula using the ISIS spectrograph on the William Herschel Telescope. Credit: Laurence Sabin, Nick Wright and the IPHAS Collaboration.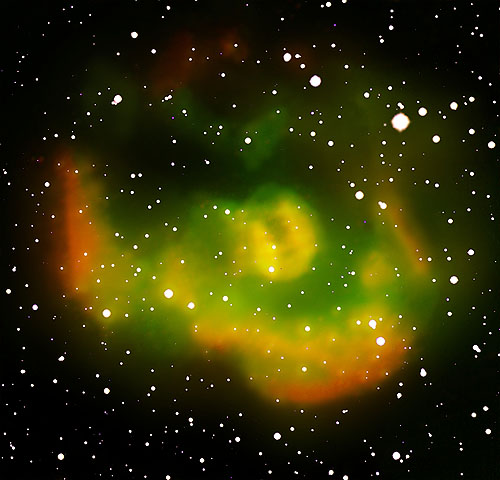 [ JPEG | TIFF ]
References:
Viironen, K.; Sabin, L.; Rodríguez-Flores, E. R.; Mampaso, A.; Corradi, R. L. M.; Greimel, R. , 2006, "New Planetary Nebulae found by the IPHAS Survey", Planetary Nebulae in our Galaxy and Beyond, Proceedings of the International Astronomical Union, Symposium No. 234. Edited by Michael J. Barlow and Roberto H. Méndez. Cambridge: Cambridge University Press, 2006., pp.533-534.
"A New Planetary Nebula", CCI Annual Report 2006, 14.
IAC Annual Report 2006 (Report on the project "Nebulosas Bipolares" in "Área de Investigación").