Communicating Astronomy from the Telescope: The ING Experience





Javier Méndez (ING Public Relations Officer, jma@ing.iac.es)
27 February 2002 (revised: 3 July 2003)
Isaac Newton Group of Telescopes; Apartado 321; E-38700 Santa Cruz de La Palma; Canary Islands; Spain




Abstract

The Isaac Newton Group of Telescopes (ING) operates the 4.2m William Herschel Telescope (WHT), the 2.5m Isaac Newton Telescope (INT) and the 1.0m Jacobus Kapteyn Telescope (JKT) on behalf of the Particle Physics and Astronomy Research Council (PPARC) of the United Kingdom, the Nederlandse Organisatie voor Wetenschappelijk Onderzoek (NWO) of the Netherlands, and the Instituto de Astrofísica de Canarias (IAC) in Spain. The ING is located at the Roque de Los Muchachos Observatory, La Palma, Spain. Here we show the strategy and the activities we have followed in order to reach our public relations objectives in the most efficient way. This is also a good example of how astronomy can be disseminated directly from the telescopes.


0. Introduction
The Isaac Newton Group of Telescopes (ING) consists of the 4.2m William Herschel Telescope (WHT), the 2.5m Isaac Newton Telescope (INT) and the 1.0m Jacobus Kapteyn Telescope (JKT). The ING is located 2,350m above sea level at the Roque de Los Muchachos Observatory (ORM) on the island of La Palma, Canary Islands, Spain. The WHT is the largest telescope of its kind in Western Europe.

The construction, operation, and development of the ING telescopes is the result of a collaboration between the United Kingdom, the Netherlands and Spain. The site is provided by Spain, and in return Spanish astronomers receive 20 per cent of the observing time on the telescopes. The operation of the site is overseen by an International Scientific Committee, or Comité Científico Internacional (CCI).

A further 75 per cent of the observing time is shared by the United Kingdom and the Netherlands. On the JKT the international collaboration embraces astronomers from Ireland. The remaining 5 per cent is reserved for large scientific projects to promote international collaboration between institutions of the CCI member countries.

The ING operates, maintains and developes the telescopes on behalf of the Particle Physics and Astronomy Research Council (PPARC) of the United Kingdom, the Nederlandse Organisatie voor Wetenschappelijk Onderzoek (NWO) of the Netherlands and the Instituto de Astrofísica de Canarias (IAC) of Spain. The Roque de Los Muchachos Observatory, which is the principal European northern hemisphere observatory, is operated on behalf of Spain by the Instituto de Astrofísica de Canarias (IAC).


1. Overview of Public Relations at ING
1.1 Motivation
As an astronomical observatory we need to be in close touch with our community of users - the astronomers.

Furthermore, the promotion of science is one of the five objectives of PPARC's corporate plan:

"To attract public interest and excitement, and to draw young people into science. We will work with our partners in education and the media to encourage community-wide efforts to promote and explain our science, especially to young people."

And also public relations (PR) activities on La Palma is one of the ING organisational values:

"Maintain a good relationship with the public on La Palma."
1.2 Defining the audience
By region: La Palma, UK/the Netherlands, and the rest of the world.

By groups:
Press media
Astronomical community
Decision makers (funding agencies)
The public:

Young people (schoolchildren, undergraduate and graduate students)
Attentive public (usually amateur astronomers)
Interested public
Residual public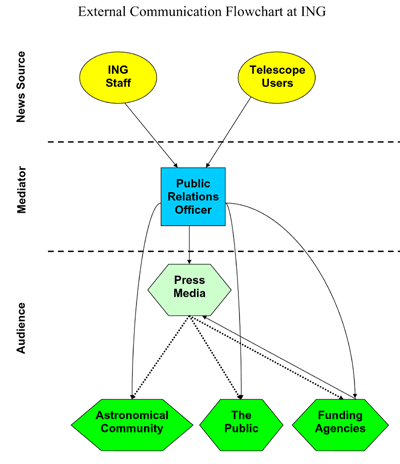 [ GIF | TIFF ]
1.3 Information values
Observational astronomy: the excitement of (real-time) research, instrument and telescope developments, science discoveries, Universe exploration, the search for life elsewhere, etc.

The day-to-day life in a world-class observatory
1.4 Aims and objectives
To become a reliable and authorised source of informacion.
To promote ING science and activities.
To maintain positive links with the public and institutions.
To project a positive image and own identity.
To disseminate astronomy knowledge.
To support astronomy education and build science culture up.
1.5 Strategy
The general PR strategy can be summarised as below:
To set up efficient information services both to offer information regularly and to deal with the day-to-day information requests.
To reach the objectives in the most efficient way with the available resources at ING.
To keep close links with PR teams at PPARC, NWO and IAC.
1.6 Responsibilities and duties
Responsible for giving general information to the public.
Acting as a contact for the press. This involves producing and distributing press releases, organising press conferences, developing and maintaining databases of graphical material, etc.
Responsible for ING external publications: newsletter, annual report, leaflets, etc. It includes editing, on-line and print publishing, and distribution.
Responsible for organising visits to the ING installations and Open Days in summer.
Publicising ING activities and highlights through the collection of scientific highlights, the production of nice astronomical images, the production and maintenance of web pages of general information, etc.
Planning and execution of PR projects.
Responsible for ING's corporate identity.
Other activities related to public relations in Astronomy: production and sale of souvenirs, exhibits, public outreach activities, organisation of events,etc.
Web site editor.
2. Human, technical and finance resources
2.1 Staff
Half-time astronomer, professional and personal profile as follows:
Professional experience: public communication
Education (academic, artistic, specific): astrophysics degree
Skills: good communication in Spanish and English.
Personal actitud: enthusiastic.
Place in staff organigram: astronomy group, reporting to director.
Process and type of contract: part-time astronomer involved in the operation of the telescopes at a low level, flexible in working time.
Other profesional skills: web design, graphical design.
The PR officer acts as a secondary-emitter (Carlos Elías, "Ampliación del modelo comunicacional de Jakobson como fórmula para acercar el mensaje experto al periodístico: la figura del emisor secundario", Revista de la Facultad de Comunicación, Universidad de Navarra, vol. XV, no. 2, December 2002), in other words, is an expert but not the news source, and works as a bridge between the primary emitter and the journalist translating the expert message into a journalist message.
2.2 Computing facilities
Web server and mirror in UK, good communication with the outside world and good general level of facilities.
2.3 Finance
Internal allocation in ING budget.
Specific external project funding.
2.4 External support
Eventually the PR officer works together with the PR teams of our funding agencies: PPARC, NWO and IAC.


3. Tasks
The PR officer carries out the following activities:


To deal with information requests by phone, email, mail and fax on a daily basis.
Press activities, information services and publications:
ACTIVITY

AUDIENCE TARGET



Public in general

Professional astronomers

Press Media

PRESS

Press releases: production, distribution and follow-up

X



X

Press conferences





X

Informative sessions





X

Interviews (induced or requested)





X

Encourage scientists to prepare press work



X



Support to our funding agencies' press offices

X



X

INFORMATION SERVICES

Public Information web pages

X



X

[INGNEWS] email exploder



X



PUBLICATIONS

ING Newsletter (print and on-line format)



X



Annual report (print and on-line format)

X

X

X

Other publications: sheets, leaflets, posters, etc.

X



X

Support to external publications: PPARC annual report, PPARC's Frontiers magazine, CCI annual report, etc.

X





Organisation of visits to the telescopes, particularly for journalists, university groups, schools, amateurs, etc. Organisation of Open Days in summer.
Planning and execution of PR projects for publicising ING. Examples of PR projects: the ING true-colour high-quality image collection, access of schools to the Jacobus Kapteyn Telescope, live images from the telescopes using the ING pipeline image processing, internal exhibits, etc.
Production and sale of souvenirs.
Organisation and attendance to astronomy PR events: conferences, workshops, science weeks, exhibits, public talks, etc. worlwide.
Corporative identity and public image.
Social and cultural sponsorship in the local area: donations, promoting research, collaboration with local amateur astronomers, etc.
Other complementary activities:
The press dossier: keep general information on ING updated on the web.
Updated archive of photos and movies.
Measurement of scientific productivity.
PR continous training.
3.1 Time organisation
Daily tasks (30% of working time): mail, email, visits, souvenir sale, etc. Rest of the time devoted to eventual work, projects and training, sorted by priority.
3.2 Procedures
Described on ING Intranet in a series of documents.

4. Measuring efficiency
Below we show examples of some of our PR activities and how efficiently the objectives are reached.
4.1 Example of press release

In July 2000 the Jacobus Kapteyn Telescope was the first to observe the break-up of the nucleus of comet C/1999 S4 (LINEAR), never observed before in a comet. We sent out a press release 24 hours after the first IAU telegram was released by the observer and we kept the press informed with another press release resulting from new observations with the INT one week later. These press releases reached the specialised press worldwide. Thanks to this discovery and subsequent coverage in the press, HST and VLT telescopes took the decision to observe the comet. These telescopes acquired astonishing images of the break-up.
4.2 The ING Newsletter
The ING Newsletter is primarily published on-line in html and pdf format twice a year in March and September. Notification of every new issue is given using [INGNEWS] email exploder. Printed copies are mailed to libraries. This newsletter has had good feedback from our community of users. Typical sections are: science, telescopes and instruments, other news and applying for time. The ING Newsletter can be found on-line at http://www.ing.iac.es/PR/newsletter/.
4.3 Visits to ING telescopes
Shown here is a typical year split-up of visits (number of visits in brackets). On average 7,000 visitors are shown around every year.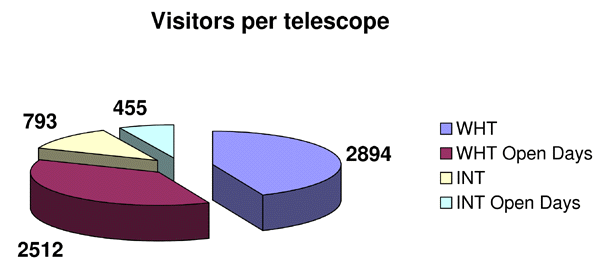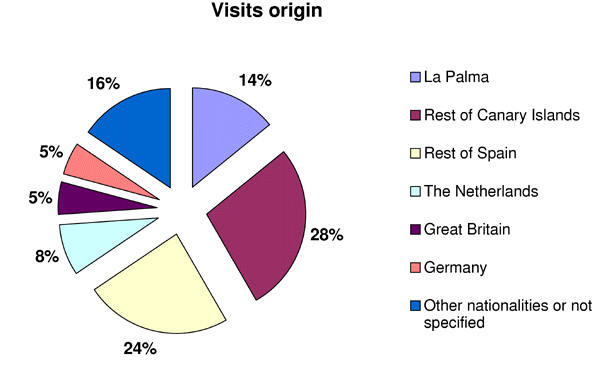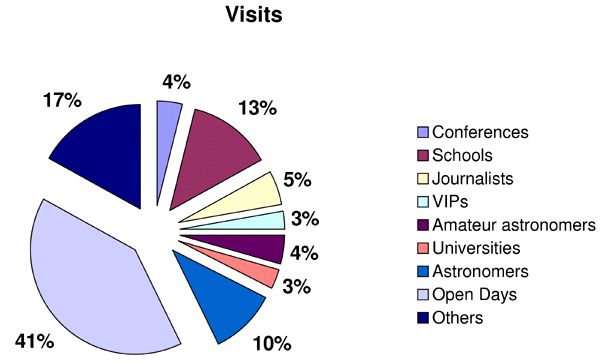 4.4 The schools project
This project aims at strengthening links with schools in the UK and the Netherlands by offering either the possibility of visiting the observatory as part of an educational trip to La Palma or an observing night on the JKT on a discretionary night. In the latter case, the students, who are selected after an astronomy competition at their schools, fly to La Palma a couple of days before observing, prepare the observing programme, set up the telescope, observe and reduce the data with the help of a support astronomer. The observing programme can be their own, one of our PR projects or a real research project in collaboration with an astronomer. The ING school project is a pilot experience which has proved to be very successful. More information can be found at http://www.ing.iac.es/PR/schools/.
4.5 The production of astonishing images
A picture is worth a thousand words, particularly in astronomy. At ING we are in a privileged situation. The range of available imaging instruments allows us to produce wide-field images of objects of different sizes, which in combination with the good site observing conditions and appropiate reduction techniques, allows us to obtain high-quality images adequate for publishing. Furthermore, images can be made accessible from the telescopes almost in real-time thanks to our PR pipeline processing tool (see poster in this conference).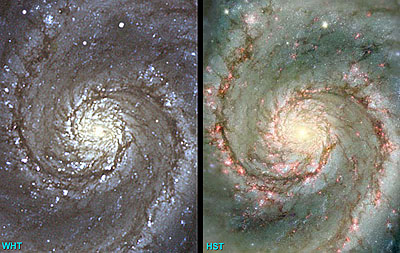 A comparison between an image of M51 taken using the Prime Focus Camera on the William Herschel Telescope and an image of the same object from Hubble Space Telescope's Heritage Project. The WHT image is part of the ING high-quality CCD image collection. More information: http://www.ing.iac.es/PR/images_index.html
5. Conclusions
A summary of PR organisation at ING has been presented. The way this has been organised can also be taken as an example of how astronomy can be disseminated from other observatories run by independent institutions like ING.

For more information on PR organisation at ING please visit ING's Public Information web site at http://www.ing.iac.es/PR/ or at our mirror in UK http://www.ast.cam.ac.uk/ING/PR/.