Accommodation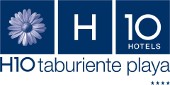 We have negotiated attractive rates for conference delegates over the 5-night period 1-6 March 2015 with the Hotel H10 Taburiente Playa and its sister apartment hotel H10 Costa Salinas, both situated in the resort centre of Los Cancajos, just 5km south of Santa Cruz.
Of course you are welcome to make your own arrangements, but staying in the same hotel complex as the majority of your colleagues will allow you to catch up with old friends and make new ones, as well as continue to debate the finer points of the conference talks in the relaxed atmosphere of the hotel's lounges. Free bus transport will be available to take you from Los Cancajos to Santa Cruz each morning, and back again to the hotel in the evening.
Hotel H10 Taburiente Playa is a splendid 4-star hotel overlooking the Atlantic Ocean, popular with visiting astronomers to the island's telescopes, and has hosted conference delegates on many occasions in the past. The Costa Salinas 3-star Apartahotel, just next door and run by the same management, provides 1- and 2-bedroom apartments each with bathroom, lounge and kitchenette, for up to 3 and 5 adults sharing. The apartments might be of special interest to those travelling with their family, as well as to small groups who prefer to share.
The daily conference rates for Bed and Breakfast and Half Board (that is, B&B with dinner) inclusive of taxes are:
Hotel Occupancy
Bed and Breakfast
Half Board
Double room, one adult
50.00€
54.00€
Double room, two adults†
67.00€ (33.50€ pp)
75.00€ (37.50€ pp)
For a daily supplement of 4€ pp you can book a room with a sea view
†Children aged <2 free; one aged 2-12 free; second aged 2-12 half of adult rate
Apartahotel Occupancy
Apartment
One bedroom, up to 3 adults
49€
Two bedrooms, up to 5 adults
66€
Individual bed and breakfast +6€ pp daily; half board +15€ pp daily
See booking form for B&B and HB rates for all occupants collectively
Rates for additional children are similar to those listed above for the hotel
To book your H10 conference accommodation, click the icon below then Book Now to visit the secure booking site. Indicate your accommodation requirements, select Special Offer Code and enter the conference promotional code EMO2015 in the box which opens. Then Search to view the options and prices specially tailored for the conference which match your requirements. Finalise your choice and proceed to complete your booking. Here you can specify requests; you may wish to state a preference for double or single beds, for example.
The cancellation policy for H10's conference accommodation is that bookings cancelled 15 days or more before your expected arrival will not be charged, thereafter bookings cancelled by noon on the day prior to your expected arrival will be charged at a rate of 50%.
Note that on the apartments' booking form Room is used as a synonym for Apartment. So for example, book one room, five adults for a two-bedroom apartment for five adults.