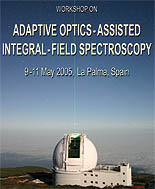 ---
Workshop Home
---

ATTENDANCE
---
Important dates
Registration form
Travel to La Palma
Accommodation

PARTICIPATION
---
Scientific programme
Poster presentations
Participants
Social programme
Press programme
Proceedings

GENERAL
---
Photos
Announcing poster
SOC & LOC members
About OASIS
About ING
About La Palma
La Palma weather
---
Pages last updated:
5 May 2005
---

Conference organised by the Isaac Newton Group of Telescopes (ING)
Social programme
---
These events are free and you donīt have to register for.
Sunday, May 8
20:20. Welcome reception, at Hotel Taburiente Playa, main terrace.
Folkloric show by Palmeran group "Tuhoco", and buffet dinner offered by the La Palma Touristical Board.
Monday, May 9
Afternoon coffee-break. Group photograph.
At the front door of the Hotel Taburiente Playa.
Monday, May 9
18:15-19:00. Talk "La Palma: The Beautiful Island", by Juan Manuel Castro (touristical guide and local researcher).
At the conference room of the Hotel Taburiente Playa.
Wednesday, May 11
13:30-20:00. Excursion to Roque de Los Muchachos Observatory.
Departure from and return to Hotel Taburiente Playa. Lunch on route and visit to William Herschel Telescope and the 10-m GranTeCan telescope.