!Converted with LaTeX2HTML 95.1 (Fri Jan 20 1995) by Nikos Drakos (nikos@cbl.leeds.ac.uk), CBLU, University of Leeds >
---




Next:
The 2.5-m Isaac
Up:
Acquisition and guiding
Previous:
Nasmyth acquisition and
---
Guiding facilities at the prime focus of the WHT are provided by the prime focus instrument platform (PFIP). This is designed for use with direct imaging CCD cameras, and provides no acquisition facilities, as it is assumed that acquisition will be carried out with the main detector. The layout of the PFIP is shown in Figure

. The following functions are provided.
Shutter - There is an iris shutter of 100mm diameter, which lies 55 mm below the nominal focal plane, giving an unvignetted field of 80 mm (23.5 arcmin) diameter.
Filters - The filter wheel has seven positions and accepts filters of up to 125mm diameter. There is a set of ``Harris'' BVRI filters of this size, and adaptors can be made to accomodate smaller filters. A set of adaptors for 50mm square filters exists. Details of the filters available are given in Appendix
Autoguider - There is an offset autoguider which consists of a diagonal pickoff mirror, a magnifying lens, and a coherent bundle feed to a standard RGO CCD autoguider head. The field of view of the autoguider at any one time is limited by the size of the coherent bundle to 25 arcsec square. The autoguider probe has a travel of 110 mm in the x direction (tangential in the centre of its travel) and 20 mm in the y direction (radial in the centre of the x travel), so that the autoguider probe can cover a total field of view 188 sq arcmin. Most of this field is in the partially vignetted region of the field of the corrector, although the vignetting is always less than 45%. The lens assembly at the input end of the guide bundle can be moved through 8 mm in order to adjust the focus to compensate for telescope focus adjustments (for example to accomodate filters of different thicknesses). Guide stars can be identified and the required probe positions calculated using the Guide Star Search facility, described in section .
Although the PFIP has been designed to support CCD imaging cameras, other instruments can be mounted on it, subject to a maximum weight of 70 kg, and a moment of 70 kg m. The nominal focal plane is 40 mm behind the mounting plane.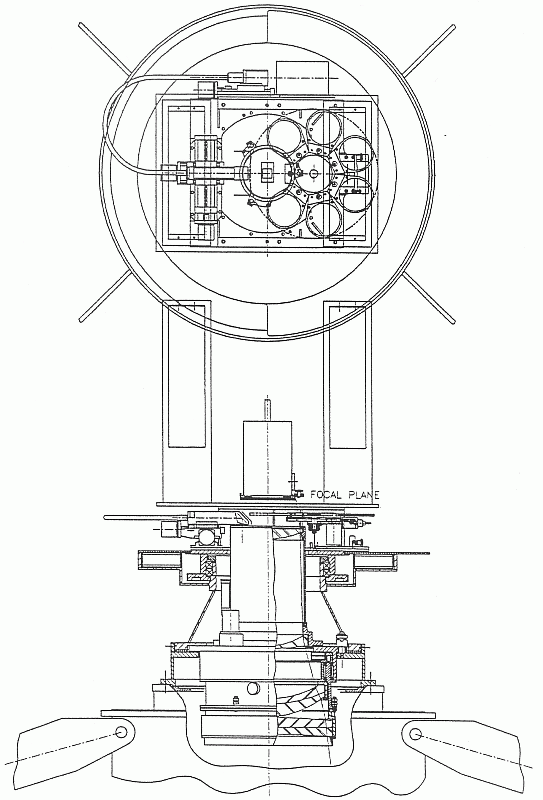 [ TIFF ]

Figure: The Prime Focus Instrument Platform plan view (above), and side view (below)

---




Next:
The 2.5-m Isaac
Up:
Acquisition and guiding
Previous:
Nasmyth acquisition and
---
---

Tue Aug 15 16:42:46 BST 1995