!Converted with LaTeX2HTML 95.1 (Fri Jan 20 1995) by Nikos Drakos (nikos@cbl.leeds.ac.uk), CBLU, University of Leeds >
---




Next:
FILTERS
Up:
Instrumental throughput
Previous:
Theoretical throughputs
---
La Palma Technical Note 31 discusses the atmospheric extinction on La Palma in some detail. Briefly, it is possible to separate the extinction into a wavelength dependent component, due to Rayleigh scattering by air molecules and absorption by ozone, and a wavelength independent component due to dust scattering. The wavelength dependent component is plotted as a function of wavelength and airmass in Figure

. The extinction at the zenith on a clear night with low aerosol content is tabulated as a function of wavelength in Table

. Table

gives the airmass as a function of zenith distance. It can be seen that this component of the atmospheric extinction is much more important in the blue than in the red, varying from 3.7 magnitudes per unit airmass at 3000 Å to 0.007 magnitudes per unit airmass at 10000 Å.
The extinction due to dust scattering varies from night to night, but is usually less than a few tenths of a magnitude per unit airmass (see Table

). The total vertical extinction in V band (i.e. the sum of the wavelength independent and wavelength dependent components) is measured each night by the Carlsberg Automatic Meridian Circle, and these values are placed on the ING information pages of the World-Wide Web.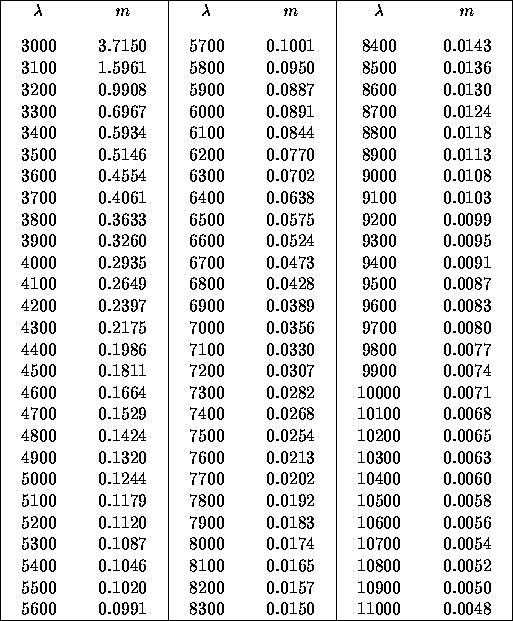 Table: La Palma Standard Extinction Curve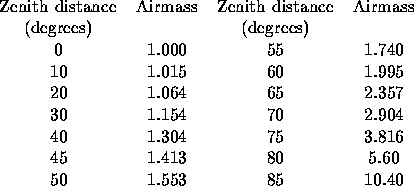 Table: Airmass as a function of zenith distance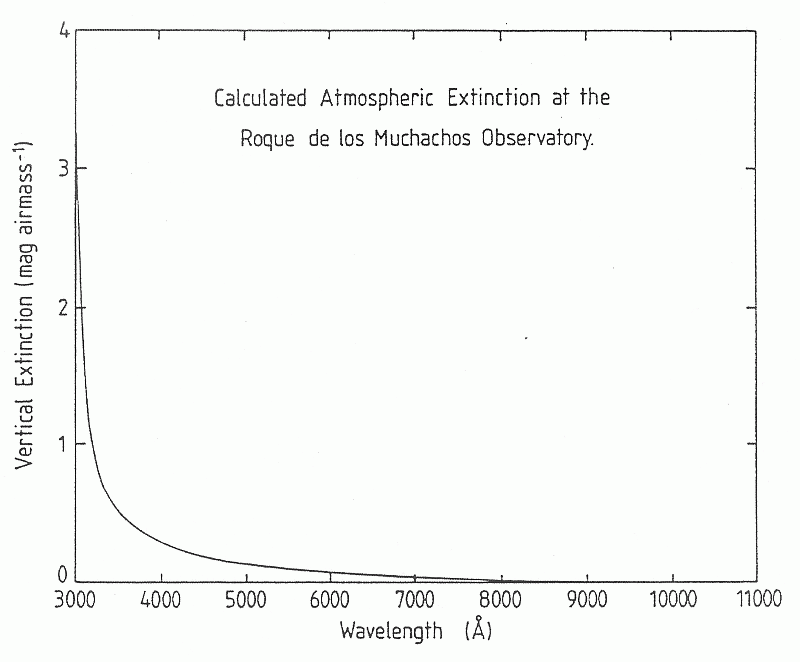 [ TIFF ]

Figure: Theoretical atmospheric extinction on La Palma as a function of wavelength and airmass

---

Tue Aug 15 16:42:46 BST 1995