| | |
| --- | --- |
| | Discovery image of the optical counterpart of gamma-ray burst (GRB) |


Date: 16 April 1997
This image is mentioned in Press Release ING 3/97

Contacts:

Dr. Rene G. M. Rutten
Isaac Newton Group of Telescopes
Roque de Los Muchachos Observatory, La Palma, Spain
Phone: +34-22-425441

Dr. John H. Telting
Isaac Newton Group of Telescopes
Roque de Los Muchachos Observatory, La Palma, Spain
Phone: +34-22-425463



---
Discovery image of the optical counterpart of Gamma-Ray Burst (GRB). OT: Optical Transient. The left panel shows the part of the sky where the GRB occured as seen by the 4.2-meter William Herschel Telescope. The right panel shows the same part of the sky only a few days later with the 2.5-meter Isaac Newton Telescope, when the source had already become much fainter. After more than two decades of intensive searches for signs in the visible light of these extremely energetic events in the Universe, these two images show that GRBs can be spotted with optical telescopes from the ground. This discovery helps scientists to unreveal the true nature of the cataclysmic events known as Gamma-Ray Bursts.
This picture and a paper will be published in NATURE the 17th of April.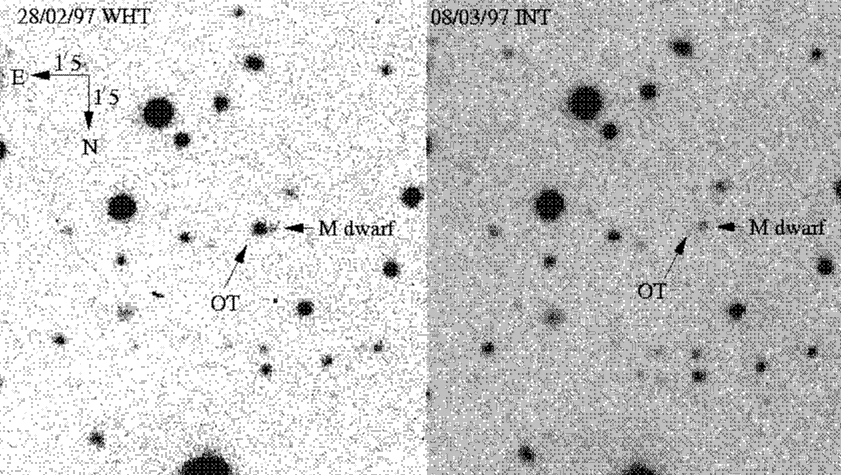 [gif,88k]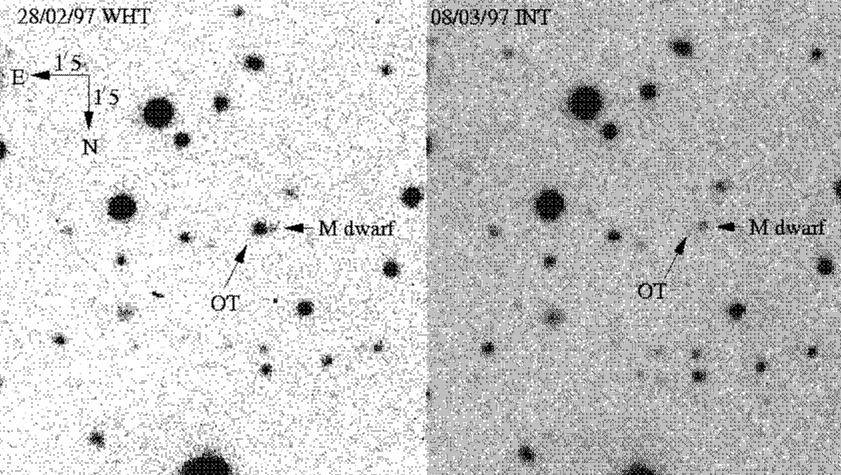 [jpg,139k]

Colour version of the former picture [gif,83k]
There is also a postcript picture at ftp://ing.iac.es/pub/PR/ which is called grb_ing.
Pictures of the William Herschel Telescope can be found at our list of selected pictures.




[PR page|
Press Releases page]
---
Javier Méndez
16 April 1997
jma@ing.iac.es