!Converted with LaTeX2HTML 95.1 (Fri Jan 20 1995) by Nikos Drakos (nikos@cbl.leeds.ac.uk), CBLU, University of Leeds >
---




Next:
Optics
Up:
The 2.5-m Isaac
Previous:
General description
---
Telescope limits:

Zenith distance < 70
- 6 h < hour angle < + 6 h (above pole)
Declination > -30 09 30


Operation below the pole is possible, but only gains a small extra area of sky; consider it in exceptional circumstances.

Note that the lower windshield causes vignetting for zenith distances > 57 and is raised for such observations.

Figure shows the area of the sky normally accessible to the INT.

  
[ TIFF ]

Figure: The area of sky accessible to the INT. Lines of equal zenith distance are drawn on a plot of declination against hour angle.


Speed limits: Maximum speeds for hour angle and declination are 0.5 s and 1.3 s respectively.

Tracking and pointing:

Pointing accuracy: rms residual of a global fit = 5 arcsec
Tracking accuracy:
(unguided) < 1 arcsec in 3 minutes; < 2 arcsec in 10 minutes
(guided) < 0.3 arcsec
Offsetting accuracy: Less than 1 arcsecond using the AUTOFFSET command.


Table: Summary of mirror characteristics for the INT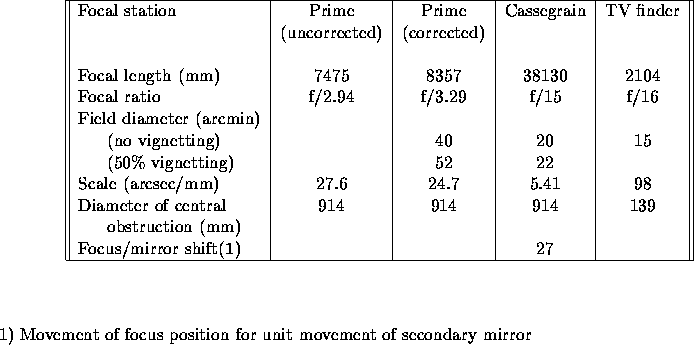 Table: Optical characteristics of INT foci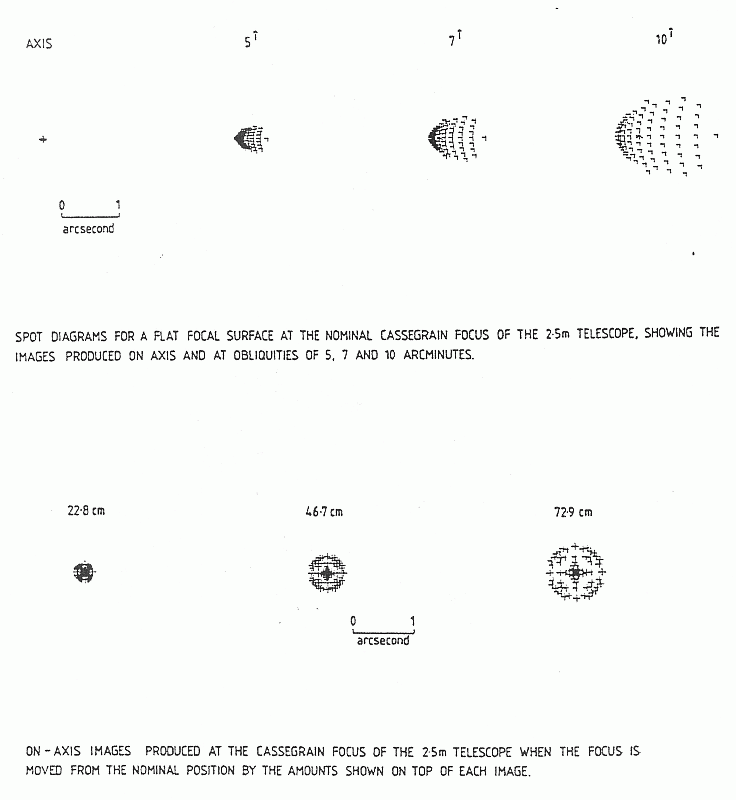 [ TIFF ]

Figure: Spot diagrams for images at the f/15 Cassegrain focus of the INT, showing the dependence on field radius and the effects of defocussing.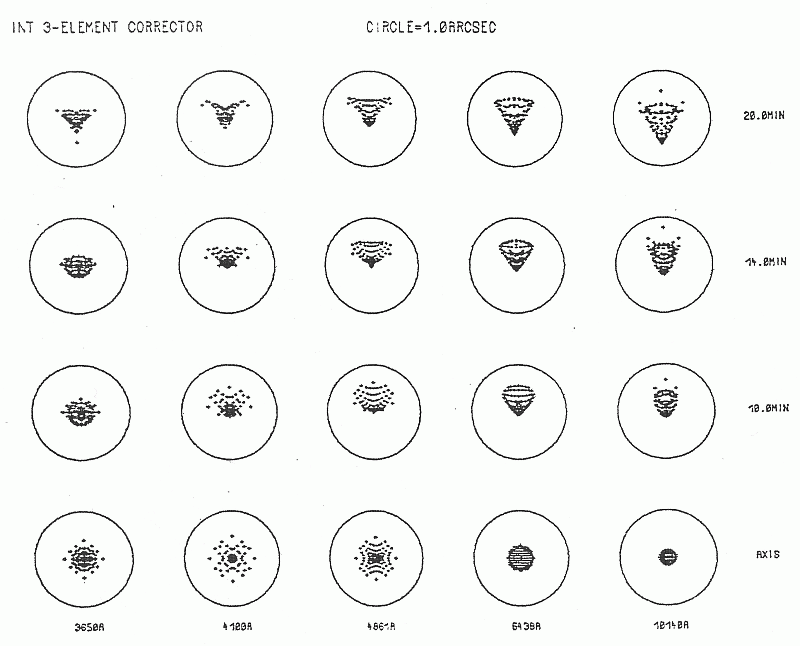 [ TIFF ]

Figure: Spot diagrams for the prime focus of the INT with the three-element corrector at different wavelengths and field radii. The scale is shown by a circle of radius 1.0 arcsec.

---

Tue Aug 15 16:42:46 BST 1995