!Converted with LaTeX2HTML 95.1 (Fri Jan 20 1995) by Nikos Drakos (nikos@cbl.leeds.ac.uk), CBLU, University of Leeds >
---




Next:
Acquisition and guider
Up:
Acquisition and guiding
Previous:
Acquisition and guider
---
This acquisition unit is used for all instruments at the f/15 focus except the CCD camera, which has a dedicated A&G box, and the Multi-Purpose Fotometer, which mounts directly on to the telescope. The instruments concerned are the Peoples' Photometer, the Richardson-Brealey Spectrograph, and `own' instruments. Figure

is a schematic diagram of this acquisition unit.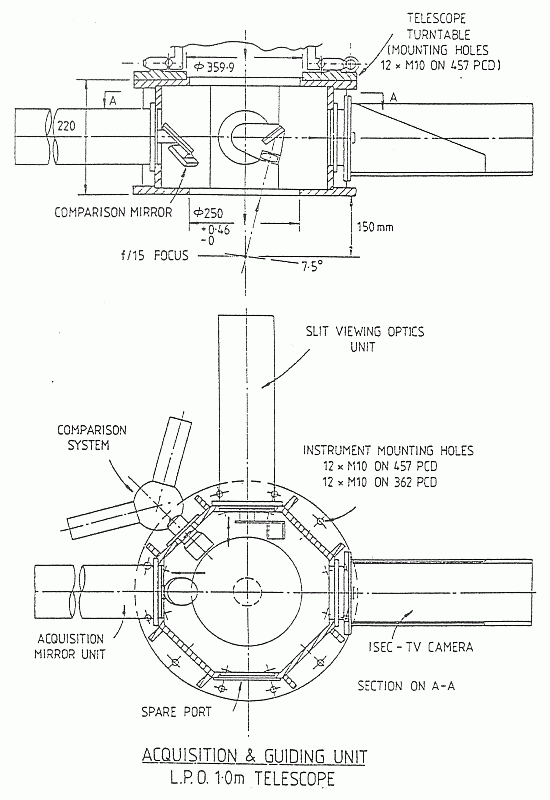 [ TIFF ]

Figure: The acquisition unit used with the photometers and spectrographs at the f/15 Cassegrain focus of the JKT, showing the acquisition mirror, TV camera and comparison system.

The following facilities are provided:
Acquisition and slit viewing. A Westinghouse intensified TV camera with an S-20 photocathode is used, with integration on target and recursive filtering in software. The TV field is 4.1 4.1 arcmin, divided into 512 512 pixels with a pixel size of 0.48 arcsec. The limiting magnitude when used direct is m = 15. With full integration (256 frames + recursive filtering) the limiting magnitude is m = 20. Both of these limiting magnitudes are for a dark sky. A set of Wratten neutral density filters are available (ND = 0, 2, 3, 4).

This unit has remotely operated flat mirrors which can either direct the image from the field direct to the TV, direct the light off the slit jaws of a spectrograph, or be removed entirely

Guiding. There is no autoguiding capability. For the spectrograph, the observer is expected to guide manually using the slit-viewing option described above; for the photometer, to rely on telescope tracking.

Comparison lamps. Comparison lamps are available in an integrating sphere. The lamp light is directed to the instrument by a mirror on the rear of the field-viewing flat.
---

Tue Aug 15 16:42:46 BST 1995