!Converted with LaTeX2HTML 95.1 (Fri Jan 20 1995) by Nikos Drakos (nikos@cbl.leeds.ac.uk), CBLU, University of Leeds >
---




Next:
Performance
Up:
TAURUS-2
Previous:
Overview
---
TAURUS-2 is the second generation instrument inspired by the success of the original TAURUS-1 wide-field imaging Fabry-Perot interferometer. The instrument was re-designed as a common-user facility and built under contract for both the WHT and the AAT by the Kapteyn Sterrenwacht, Roden.
A major design goal of TAURUS-2 was that, unlike TAURUS-1, it should be a straightforward and flexible instrument to use. In order that the instrument can be reconfigured easily, it is possible to change remotely between a wide range of filters, etalons and apertures.
The major optical components of TAURUS-2 are shown schematically in Figure

. The components are as follows: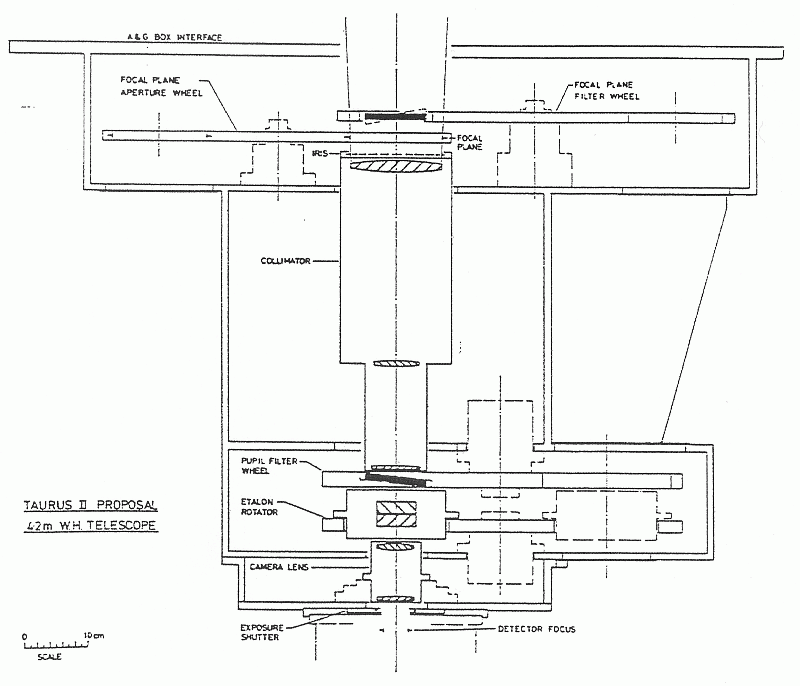 [ TIFF ]

Figure: TAURUS-2

Focal plane filter wheel. This has 8 positions, each of which can hold a circular filter up to 125 mm in diameter. The filters available for use with TAURUS-2 are listed in Appendix . The filters can be tilted remotely by up to 10 in order to shift the central wavelength to the blue (see 5.10.5).

Focal plane aperture wheel. This has 8 positions, each of which can hold an aperture mask. Table lists the aperture masks currently available.

  
Table: TAURUS-2 aperture masks


Variable iris. The field diameter is defined by a variable iris placed at the f/11 Cassegrain focal plane.

Collimator. The collimator has a focal length of 660.3 mm. The diameter of the collimated beam is 60.3 mm. The position of the collimated beam does however change as a function of field angle and wavelength, giving an effective total diameter for broadband wide-field observations of about 68 mm.

Pupil plane filter wheel. This has 8 positions, each of which can hold a circular filter up to 76 mm in diameter. Filters with a smaller diameter than the collimated beam (about 68 mm) will cause vignetting. The filters available for use with TAURUS are listed in Appendix .

Fabry-Perot etalon. The Fabry-Perot etalons used in TAURUS-2 were constructed by IC optical systems. They are piezo-scanned and are stabilized in parallelism and gap by means of a Queensgate Instruments CS100 capacitance-micrometer servo-stabilization system. The optically contacted construction of the etalons renders them highly insensitive to vibrations and misalignment which could result, for example, from changes in orientation at the Cassegrain focus. The response time to a /2 (one order) step input is about 300 microseconds. Typical performance of the system is such that a 'mechanical' finesse N > 50 can be maintained almost indefinitely. The Fabry-Perot etalons available are listed in Table . Note that the set of etalons previously advertised as being available for observations with TAURUS-1 cannot be used in TAURUS-2.

Camera. There is a choice of either an f/2.11 camera or an f/3.96 camera, with focal lengths of 128.1 mm and 240.1 mm respectively. These cameras provide scales at the detector of 23.25 arcsec/mm and 12.40 arcsec/mm respectively.

Detectors.

TAURUS--2 can be used with either the CCD-IPCS photon counting detector or a CCD. The question of which detector should be used for a given programme is discussed below.
---




Next:
Performance
Up:
TAURUS-2
Previous:
Overview
---
---

Tue Aug 15 16:42:46 BST 1995