!Converted with LaTeX2HTML 95.1 (Fri Jan 20 1995) by Nikos Drakos (nikos@cbl.leeds.ac.uk), CBLU, University of Leeds >
---




Next:
Performance.
Up:
Low Dispersion Survey
Previous:
Overview
---
Fig.

shows a schematic diagram of LDSS-2 and Table

summarizes the main properties of the instrument.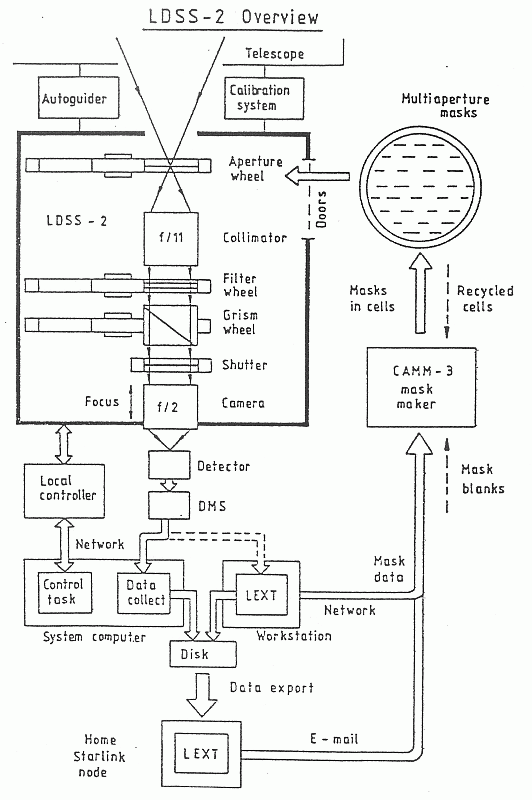 [ TIFF ]

Figure: Schematic of LDSS-2

The principle components are:
Aperture Wheel. The telescope is focussed onto a multiaperture mask so that light passes through the apertures cut in the mask and enters the collimator. The masks are held in an 8-position wheel, allowing simple and quick changes between different masks. The multiaperture masks consist of a number of holes and slits (typically 330m wide = 1.5 arcsec) cut in a brass disk. The masks can be made at the telescope close to the time of observation, using a specialized manufacturing facility which provides masks of very high quality.

Collimator. The collimator converts the input f/11 beam into parallel light, before passing it through a filter and grism. The field of view has a diameter of 11.5 arcmin.

Grism Wheel. Four grisms are provided of which 3 can be mounted in the grism wheel at any one time. These cover a range of spectral resolution 200 < R < 1000, where (see table ).

Filter Wheel. Up to 7 filters can be mounted in the filter wheel. Three broad-band filters (the BVR Harris set as used by NOAO) are provided together with 3 other filters designed for use in spectroscopic mode to suppress unwanted orders.

Camera. The light is then focussed by the camera onto an external detector with a final focal ratio of f/2, giving an image scale of 24.6 arcsec/mm over a field of view with 11.5 arcmin diam. By using clear positions in the aperture and grism wheels, LDSS-2 can be used to give direct images in the chosen filter passband. The image size for 90% encircled energy is < 30 m in direct imaging mode, and m in spectroscopic mode.

Detector. LDSS-2 is normally used with the Tektronix 1024 CCD. In direct imaging mode this covers a 10.1 arcmin square field with an image scale of 0.59 arcsec/pixel.

Software. An integral part of LDSS-2 is the LEXT software package which allows the observer to design the aperture masks, acquire the target fields and reduce the data. LEXT is a Starlink-compatible program which runs on a workstation at the telescope but can also be used at Starlink nodes.
---




Next:
Performance.
Up:
Low Dispersion Survey
Previous:
Overview
---
---

Tue Aug 15 16:42:46 BST 1995