Previous: Autoguiding using offset guide stars - found using GSS
Up: Guiding
Next: Autoguiding on the slit image
Previous Page: Autoguiding using offset guide stars - found using GSS
Next Page: Autoguiding on the slit image

In cases where there is no suitable guide star found when using the Guide Star Server, it is possible, before starting an exposure, to use the TV slitviewer to search for possible guide stars in the outer part of the field. The coordinates of the guide star can then be read using the TV cursor, and either the coarse or fine guide probe driven to the correct position to view that guide star.
The following points should be noted:
Using the TV viewer to select guide stars requires the slit angle to be set to zero degrees and the dekker to be moved out of the beam. Having selected the guide star, it is important to remember to set the slitangle and slitlength back to that required for the observation with the command UENDTVVIEW.
The relationship between guide probe coordinates and TV coordinates may change, for example if the TV is exchanged. If this happens, the relationship must be recalibrated as discussed in section 32 before the procedure described here can be expected to work.
The detailed procedure is as follows. This example assumes observations using a short slit, and autoguiding using the coarse guide probe. Commands with the ICL prompt are issued from the system computer, commands with the TCS prompt are issued from the Telescope Control System, and commands with the A&G prompt are entered at the A&G terminal.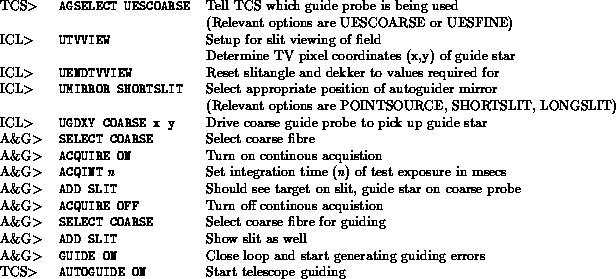 Before moving to a different target, type: