Previous: Acquisition and guiding
Up: Acquisition and guiding
Next: Guiding
Previous Page: Acquisition and guiding
Next Page: Guiding


The three principal field viewing options described above (TV slitviewer, coarse guide probe, slitviewing probe) provide a sequence of improving plate scale at the cost of decreasing field of view. For objects bright enough to be visible with all three options, the most general acquisition sequence is to use the TV slitviewer for field verification and coarse centering of the target, then to switch to the coarse guideprobe to centre up more accurately, and finally to switch to the slitviewing probe to centre up on the slit.
Experience has shown that exposures are often not sufficiently well centred on the slit. An automatic procedure using the coarse guide probe to accurately centre on the slit as a last step in the centering process is under development-check with your support astronomer for status.
In practice, as long as the telescope is performing properly, and the target coordinates are accurate, it is not usually necessary to carry out first step in this sequence. It is possible to acquire a target directly onto the coarse guide probe. The TV is therefore only needed in cases where uncertainty over the field exists, due perhaps to inaccurate coordinates.
The majority of UES observations will require the sky PA of the spectrograph slit to be set to the parallactic angle. Two options exist here, either to have the rotator track the parallactic angle during the obervation, or to set the rotator (static) at or near the parallactic angle at the start of the observation. Ask the telescope operator to do this before starting the acquisition process.
The three field-viewing options view different parts of the telescope focal plane, and it is therefore necessary to define three apertures in the focal plane. It is then straightforward to apply an aperture offset to move between these three apertures. Table 22 summarises the parameters of these three apertures.

The detailed procedure is as follows. Commands with the ICL prompt are issued from the system computer, commands with the TCS prompt are issued from the Telescope Control System, and commands with the AG prompt are issued from autoguider VME system.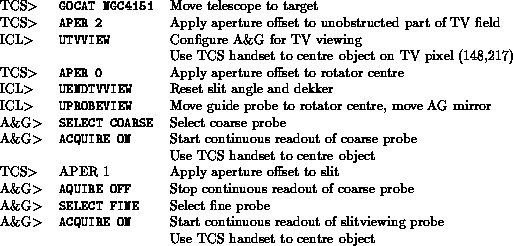 Note that in order to use the TV viewer, the UTVVIEW procedure sets the slitangle to zero and moves the dekker out of the beam. Before you start observing again the slitangle and the slitlength must be reset to their previous values with the command UENDTVVIEW.
For objects too faint to be visible on the field-viewing probes, the procedure summarised above should be followed on a nearby bright star, and a blind offset then used to centre the target on the slit.
---






Previous:
Acquisition and guiding
Up:
Acquisition and guiding
Next:
Guiding
Previous Page:
Acquisition and guiding
Next Page:
Guiding