!Converted with LaTeX2HTML 95.1 (Fri Jan 20 1995) by Nikos Drakos (nikos@cbl.leeds.ac.uk), CBLU, University of Leeds >
---




Next:
Weather and Observing
Up:
General information
Previous:
Introduction
---
The Isaac Newton Group of Telescopes (ING) consists of the 4.2-m William Herschel Telescope (WHT), the 2.5-m Isaac Newton Telescope (INT) and the 1.0-m Jacobus Kapteyn Telescope (JKT). The 2.5-m and the 1.0-m telescopes and associated instrumentation began scheduled use by the astronomical community in May 1984, and the 4.2-m telescope in August 1987. This group of telescopes forms part of the Observatorio del Roque de los Muchachos, which also includes the Carlsberg Automatic Meridian Circle (CAMC), the 2.5-m Nordic Optical Telescope, the 50-cm vacuum tower solar telescope and 0.6-m reflector of the Swedish Royal Academy of Sciences and the German gamma-ray array HEGRA. These will be joined by the Italian National Telescope (GALILEO), currently under construction.
The observatory occupies an area of 1.89 square kilometres of the district of Garafía at approximately 2350 m above sea level on the highest peak of the Caldera de Taburiente, an extinct volcano on the island of La Palma. La Palma is one of the westerly islands in the Canary archipelago (see Figures

,

, and

) and the Canary Islands are an autonomous region of the Kingdom of Spain. New geodetic positions for the telescopes, determined in 1993 using a GPS receiver, are given in Table

.


Table: Geographical coordinates

Facilities on site include mechanical and electronic workshops, a VAX cluster running the Starlink software collection, SUN workstations running the Starlink software collection and IRAF, a library and chartroom, dining and catering facilities and comfortable sleeping accommodation. A set of offices is maintained at sea level in the city of Santa Cruz de La Palma, approximately 40 km distant by road.
The observatory site (and its sister on Tenerife, the Observatorio del Teide) is operated by the Instituto de Astrofísica de Canarias. The Isaac Newton Group is operated by the Royal Greenwich Observatory on behalf of the UK Particle Physics & Astronomy Research Council (PPARC) and the Nederlandse organisatie voor wetenschappelijk onderzoek (NWO). A fuller description of the two observatories can be found in a special issue of Astrophysical Letters and Communications, vol 28, p 45, 1991.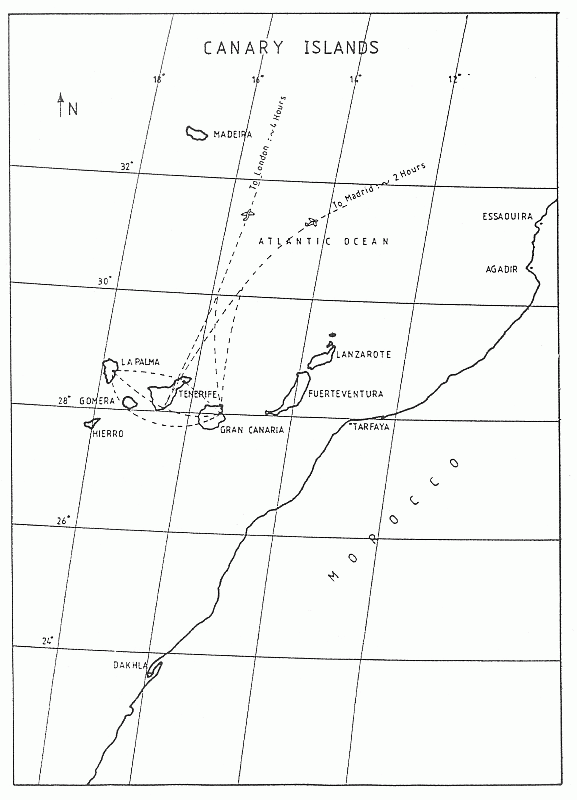 [ TIFF ]

Figure: Map of the Canary Islands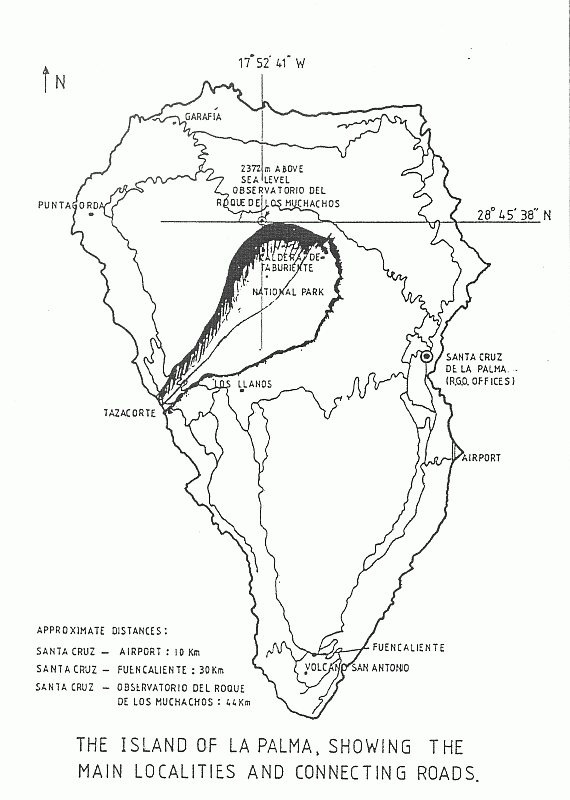 [ TIFF ]

Figure: Map of the island of La Palma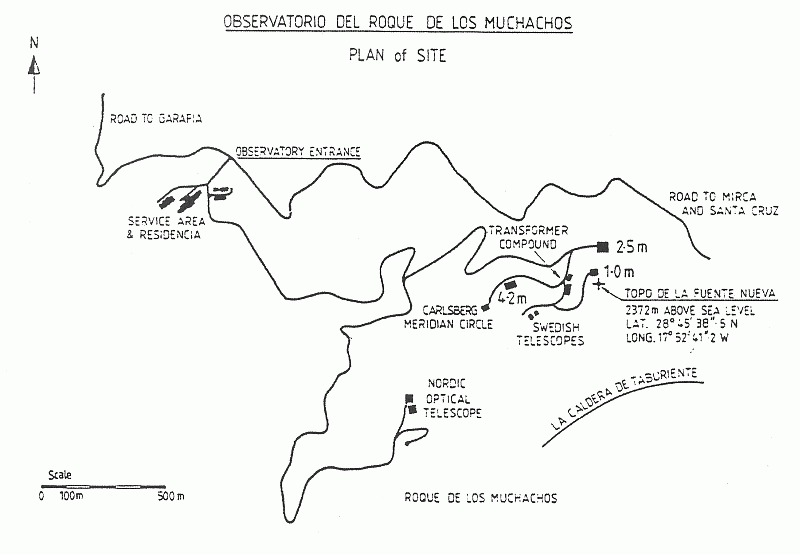 [ TIFF ]

Figure: Plan of the observatory site

---




Next:
Weather and Observing
Up:
General information
Previous:
Introduction
---
---

Tue Aug 15 16:42:46 BST 1995