!Converted with LaTeX2HTML 95.1 (Fri Jan 20 1995) by Nikos Drakos (nikos@cbl.leeds.ac.uk), CBLU, University of Leeds >
---




Next:
SIGNAL
Up:
Empirical throughputs
Previous:
Imaging
---
The ratios between mean measured instrumental throughputs, and those predicted on the basis of estimated or measured efficiencies of individual optical components (e.g. mirrors, filters, gratings) are given in the table below, for representative wavebands: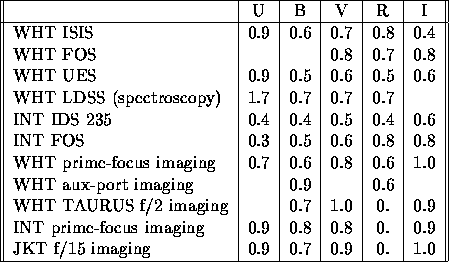 Table: Comparison between theoretical and empirical throughput

The small scatter of values for each instrument confirms that the error in measuring the instrumental sensitivities is typically 10 - 20%. The INT IDS 235-mm camera has a throughput much less than that predicted; its optical surfaces are visibly dirty, and an overhaul of IDS is planned for late 1995.
---

Tue Aug 15 16:42:46 BST 1995