!Converted with LaTeX2HTML 95.1 (Fri Jan 20 1995) by Nikos Drakos (nikos@cbl.leeds.ac.uk), CBLU, University of Leeds >
---




Next:
The 1.0-m Jacobus
Up:
Acquisition and guiding
Previous:
Cassegrain acquisition and
---
This is mainly used with the prime focus CCD camera. The A&G unit is mounted on a rotator, which allows the detector to be rotated to any position angle, although it is normally operated at one of the cardinal points. The default orientation is 180. The following facilities are provided: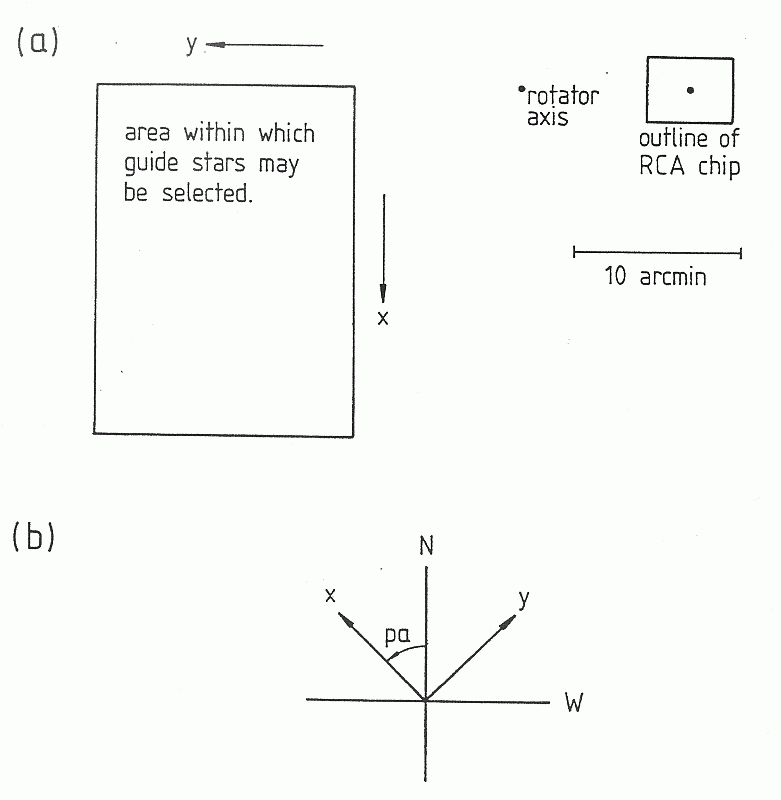 [ TIFF ]

Figure: The area within which guide stars may be selected for use with the autoguider at the prime focus of the INT. (a) Scale drawing of the locations of chip, rotator axis and guide-star acquisition field, showing probe-coordinate limits. (b) A sketch showing the general relation between guide probe and sky coordinates for any PA.

Acquisition. No direct viewing of the field is available for the prime focus. The telescope points sufficiently accurately that any object with a reasonably accurate position can be acquired close to the centre of the CCD detector. This can be verified using a short CCD exposure.

Autoguider. The prime focus autoguider is identical to that in the Cassegrain acquisition and guider unit.

The detector is an FW-130 image dissector with an S-20 photocathode. As there is insufficient space to accommodate a filter wheel or slide, a single fixed filter is used with the autoguider. The choice of this filter is a compromise between a match to the FW-130 response and to the spectral response of the instruments used at prime focus. At present a broad-band green filter is used.

Ideally guide stars should be selected in advance of the observing run, using GSS or Figure which shows the area of sky within which guide stars may be selected. Alternatively, they may be selected from the finder telescope, and then acquired by scanning a 2.5 2.5 arcmin area around the selected position. Stars with magnitudes in the range 7 < m < 13 will probably be suitable.

Comparison lamps. No comparison lamps are provided.

Filters. The filter wheels, one of which can be mounted at a time, are similar to those used for the JKT Cassegrain system. Each filter wheel carries up to 6 filters, each of which is 50 mm square. The filters available include broadband UBVRIZ, as well as a range of emission line filters. The narrow band filters are shared between the INT, JKT and WHT auxiliary port. The filters available are listed in Appendix .
---




Next:
The 1.0-m Jacobus
Up:
Acquisition and guiding
Previous:
Cassegrain acquisition and
---
---

Tue Aug 15 16:42:46 BST 1995