!Converted with LaTeX2HTML 95.1 (Fri Jan 20 1995) by Nikos Drakos (nikos@cbl.leeds.ac.uk), CBLU, University of Leeds >
---




Next:
FOS-1
Up:
Spectroscopic instruments
Previous:
Overview
---
Two versions of the Faint Object Spectrograph (FOS) exist on La Palma, one on the WHT and one on the INT, both built as a result of a collaboration between the RGO and the Department of Physics of Durham University. The FOS is a highly efficient fixed format CCD based spectrograph, designed for low resolution (15-20Å) spectrophotometry, over a wide spectral range. The optical design, described by Charles Wynne ( Optica Acta, 1982, 29, 1557) is based on a Schmidt camera working without a collimator in the diverging beam from the Cassegrain focus. The major components are shown in figure

. The dispersion is provided by a transmission grating and a cross dispersing prism (grism), which together give a multi-order format covering the wavelength range 3500Å to 10500Å for FOS-1 on the INT, and 3500Å to 9700Å for FOS-2 on the WHT. As a result of locating the CCD within the camera, there are a small number of optical surfaces and minimum vignetting, which produces a system which is more efficient than most conventional spectrographs. In addition, the fixed spectral format of the device makes it relatively straightforward to carry out on-line data reduction and analysis operations. These include wavelength and flux calibration, as well as redshift determination.
FOS-1 is mounted below the IDS, and FOS-2 is located below ISIS, sharing the same slit and calibration facilities. This location offers the advantage that it is straightforward to change between FOS and IDS/ISIS during the night. For FOS-1 this involves removing a single folding prism, a manual operation normally carried out by support staff which takes about half an hour. For FOS-2, the folding mirror can be removed remotely under computer control. Alternatively, it is possible to use a dichroic to observe simultaneously with the blue arm of ISIS and the FOS (see Section

). Some important parameters of the two version of FOS are summarised in Table

.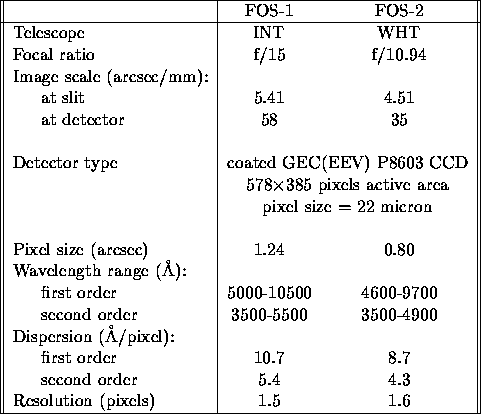 Table: Summary of FOS parameters

---
---




Next:
FOS-1
Up:
Spectroscopic instruments
Previous:
Overview
---
---

Tue Aug 15 16:42:46 BST 1995