NAOMI top gui pages
NAOMI · OASIS · INGRID · OSCA · WHT · Astronomy · ING
Example top gui pages are reproduced below.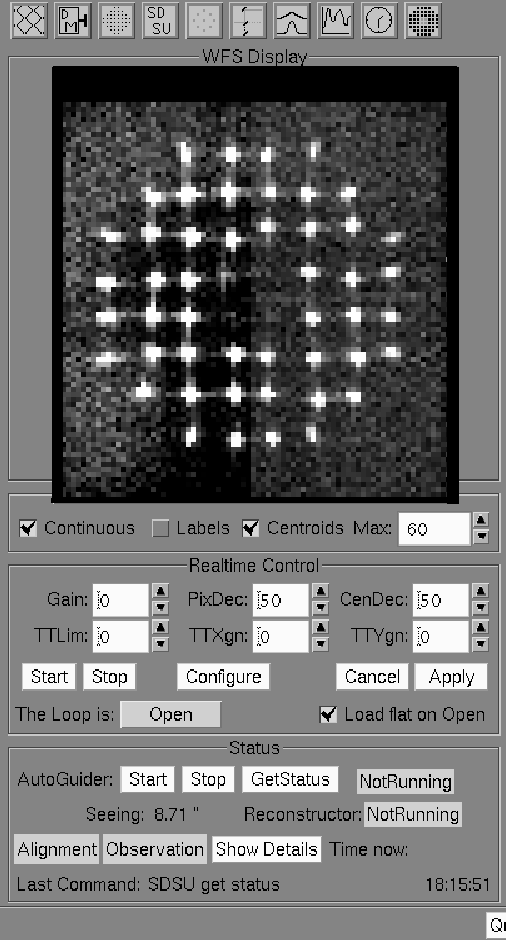 The most-used features are:
The icons running left to right along the top of the page bring up other pages (on the right-hand side of the display, unless otherwise stated) as follows:

Fisba (separate display, 2 windows)
Mechansim control (separate window)
WFS
SDSU
C40s
Light-path
Simplex (separate display, 2 windows)
Diagnostics
Real-time
DM

The continuous, labels, centroids and max settings respectively determine whether the display updates continuously, whether segment labels (numbers) are displayed, whether the centroid crosses are displayed, and the intensity level set to white.
The 'Loop is:' button toggles between AO loop open and closed.
The 'Autoguider Start' button doesn't work?
The 'Seeing' value is useful only in mode 1.
When 'Show Details' is displayed red, click on it for details of the current error.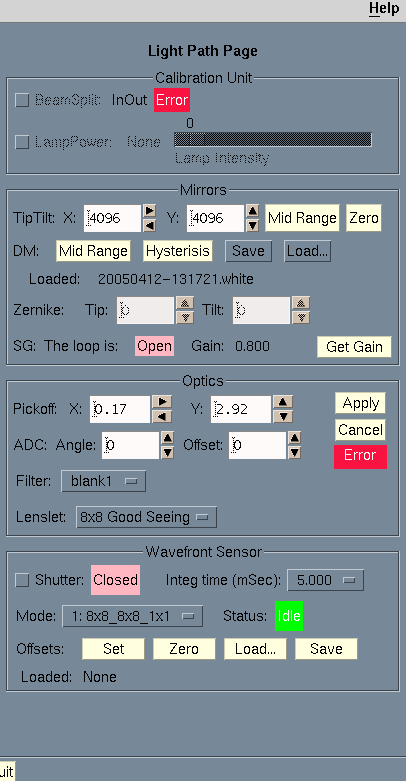 The most-used features are:
'Save', 'Load' and 'Mid Range' buttons under 'Mirrors' to save, load and mid-range the DM flats.
Pickoff x and y settings (remember to click 'Apply' afterwards). NB it's often easier to move the pickoff from the command line, with e.g. pickoff 0.5 3.5
Lenslet wheel control.
WFS mode, integration time and shutter control.
WFS save and load offsets (although these are usually done automatically, from the scripts menu).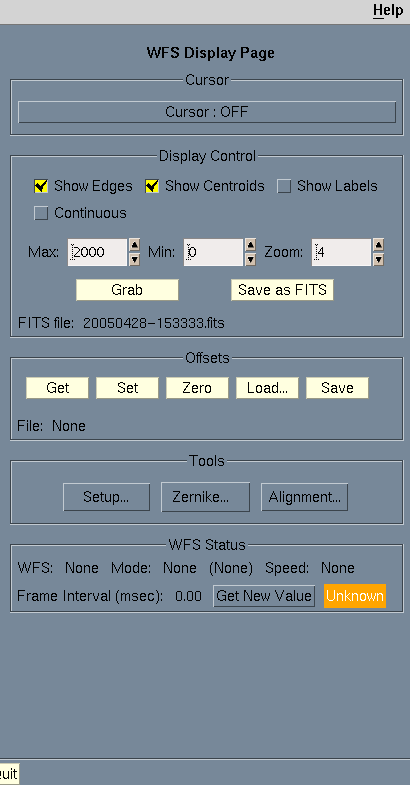 The most-used features are:
'Save as FITS' (not 'Grab') to save the WFS image is a FITS file.
'Alignment' to bring up the WFS focus tool (displaying the mean separation of the spots on the display).
'Get new value' to time the frame interval (i.e. inverse of true loop speed) for the mode currently in use.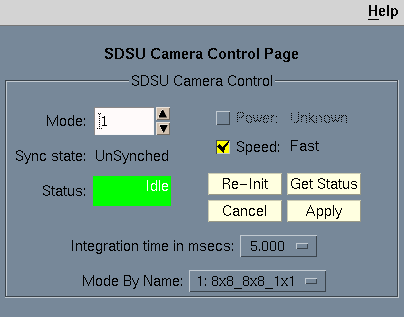 The most-used features are:
'Re-init' button sometimes brings things back if the SDSU stops responding.
The 'Speed' setting should be 'Fast'.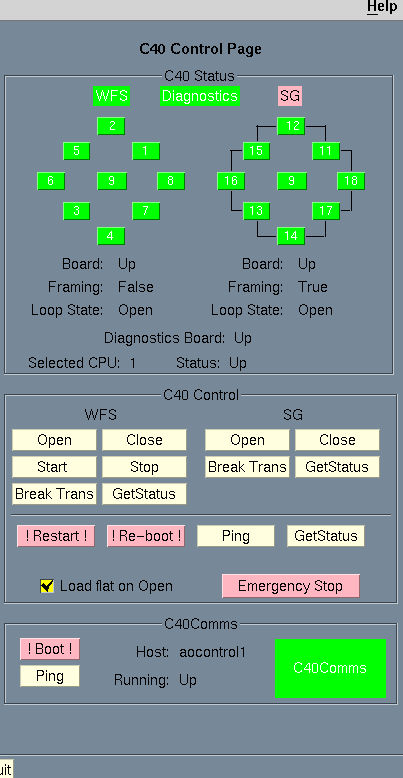 The most-used features are:
Click on SG 'Close' or 'open' to close or open the DM SG loop.
Click on WFS 'Start' to start the WFS framing.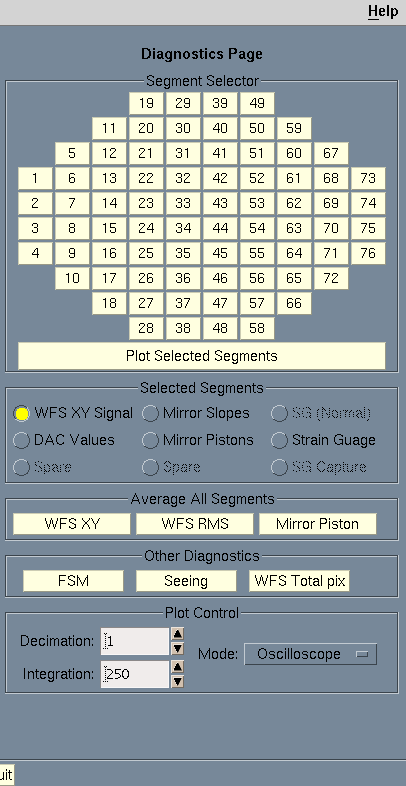 The most-used features are:
Click on 'WFS XY' and 'FSM' to bring up real-time plots of the TT signals from the WFS and to the FSM (X or Y or both).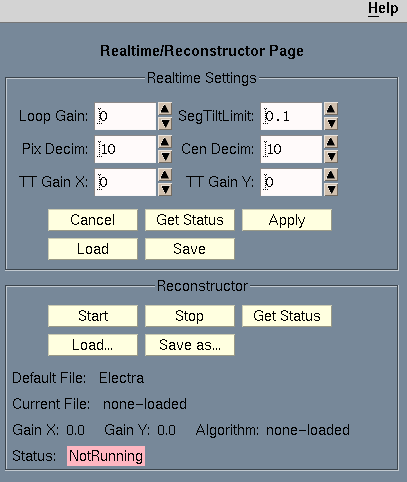 The most-used features are:
Just viewing the page, which forces an update of the reconstructor status on top gui's left-hand page.
Selecting one of the new reconstructors (the old 'Electra' reconstructor is the default).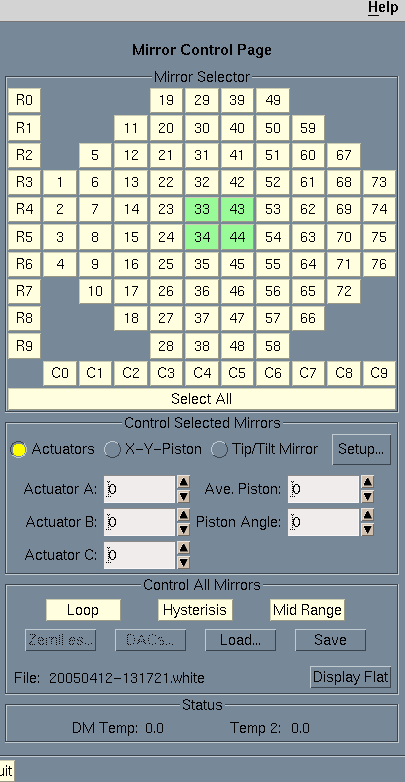 The most-used features are:
Clicking on 'X-Y-Piston' then on individual DM segments, to tweak them in position prior to laser-flattening.
Hysteresis button, sometimes used during startup.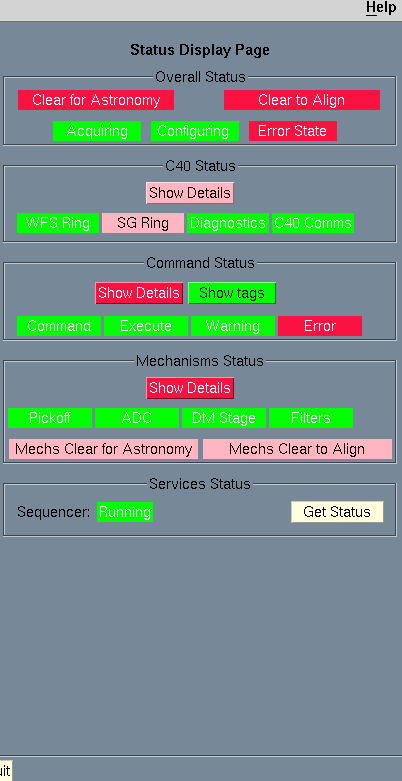 This is the page that comes up on clicking 'Show Details' on the top gui left-hand page (highlighted in red when a problem has been detected).

The most-used features are:
Click on a 'Show Details' button on this page for further information about errors reported by individual sub-systems.
NAOMI · WHT · Astronomy · ING